Post by Fleur on Apr 6, 2022 20:05:50 GMT

She wasn't going to die, not before she could finish what she'd started.
At the rift, the geomancer throws around boulders at those trying to close it. As she comes upon the student, she stops for a moment, then punches the ground. Sheer polished walls fly up around Mira, surrounding her in a cage of mirrors.
Mira's copy target, Conjure:
Cage of Reflections
For a moment, the rift is in clear sight and she's preparing to close it.
And then all that is left is herself, a wall of polished glass, and shattered shards slashing at her heels, her hands, everything as she and her pouch of samples are sent flying. This was not slow, withering pain. This was a thousand cuts all at once, not just from the glass wall, but also from the shattered vials, the lost materials. She tries to open up a rift to retrieve some of what she'd found earlier, but to no avail. She's too injured, first from the fall, now this.
The sight of herself, bloody and cut, sets something off inside her. Seeing her own reflection, she begins to question the path she's taken. Her hands are now laced with blackish blood and her once blue eyes are now tinged with an old grey. At this point, she doesn't even remember what she looks like beneath the mask. Knowing the eldritch influence that plagues her heart and that eats at her flesh, she knows full well that she may not even look human at this point.
Their touch was as much a curse as it was a gift. Was it worth it? No, it couldn't be. It couldn't be worth it. By the time she was done with her mission, she wouldn't be human at all. She would be a monster. Such was the price - the side effect - of using the gift. Her attunement with the Others would grow, and her attunement with the rest of the world would wane. Bleeding, broken, and faced with incisive introspection, she finds her resolve as low as it had ever been. This was worse than death - to be alive, unable to help.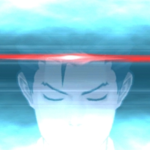 In the cage of mirrors, one of Mira's reflections becomes outlined in golden light that itself does not reflect, and winks at her. They gesture behind them, to a vision of the geomancer just outside, who has been set upon by their own Knight. Behind them, a trace of golden chains is drawn around the absolute darkness of the rift. Softly, the reflection speaks in a hollow echo, "I cannot change this uninvited fact, but beyond this last obstacle, no others will stand in your way."
Order of the Final Sunset



Creature — Incarnation Knight

Gestalt
(When this or another creature enters under your control, you may merge it with the one in play, keeping counters and attachments. They become the permanent on top plus all abilities from under it.)
Flash
When this creature enters the battlefield, merge under it all creature cards in your graveyard that were put there from the battlefield this turn. It gains their abilities.
3/2
Was she unable to help? Could she overcome the Surely there had to be a way to help. Somehow, she knew that if she could just figure out this last puzzle, she would be able to close the rift. They needed her, just like her home plane needed her. She needed to learn this, learn how to close these rifts.
Desperate times called for desperate measures,
she thought as a terrible thought came to her mind. She could control the smaller monsters while maintaining control of herself, but how much could she control them if she gave up control of herself? The smaller abominations wouldn't be able to make a dent in a cage like this one, and if she lost control in her state, they would just tear her apart. She couldn't help from the confines and bounds of her broken body and lacking energy, but...
Quickly, she sent a telepathic message to Leira.
Tell them not to kill the monstrosity going towards the rift. It's on our side.
Reaver of Myriads

Creature - Eldrazi

When Reaver of Myriads enters the battlefield, exile a permanent you control.
Whenever Reaver of Myriads attacks or becomes the target of a spell you don't control, target player exiles a permanent they control unless they exile a card in their hand.
5/4
Counters the
Cage of Reflections
by forcing a copy of the ETB, which will destroy the Cage itself.
Reaver of Myriads
exiles the assisting
Order of the Final Sunset.
All at once, the cage shattered. If one were to look atop the shards of the cage, the field researcher would be found beneath the shards, clearly not in control of her own body for the time being. She was unconscious, prone - literally out of her body. Were it not for the breathing, she would appear to be dead. The other creature, a graceful monstrosity with latticed hands and jellyfish-like appendages, moved towards the rift with the poise of a researcher and a scholar, not a monster. It went towards the rift and with purpose, cast a terrible spell that began to wilt the rift's edges, like the petals of a withering bloom. The edges of the rift could be seen turning grey, shuddering and beginning to shut.
If the rift were to successfully close, the monstrosity would turn its spell towards itself, freeing the soul and mind that lived within its confines to return to her original body.
A Facsimile of Truth:
A bit similar to the last one, but otherwise lovely.
9/10.