Post by foureyesisafish on Feb 22, 2023 8:32:11 GMT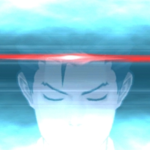 The snowstorm around the village had only grown worse, driving the townsfolk to stay inside and try to keep warm with struggling flames. Some people report seeing a strange, jerkily-moving figure vaguely resembling a girl seemingly stalking the alleyways, but surely they're just mistaken... right?

Lothaire senses something else start to sink its teeth into the narrative they had carefully spun. Something alien. Something hungry.

Creeping Dread


Instant C
Until end of turn, target creature you control can't be blocked except by colorless creatures.
Draw a card.
The very act of sinking one's teeth into a narrative spins even more fabric of fiction. The very sensation of hunger or dread that is described is yet more material. Soon too, will the sensation of countless blades piercing the being's flesh from within unless they desist at once.
Don't be a fool. If you think you are capable of erasing the history recorded in this firmament, then do so already. The most I expect you are capable of is destroying your own presence, and that is only given if someone else has not already taken notice, and copied your history for themselves.
---
From the moment the being had made contact with Lothaire, the Knight would become impossible to escape. If the figure indeed exists, they will soon find themselves confronted with the Knight fully clad in shining armor, appearing at arm's reach with a flash. They speak then, to the figure both within and without reality, "Stand and deliver, villain!"
Empty Vessel

Creature — Knight

Gestalt (When this or another creature enters under your control, you may merge it with the one in play, keeping counters and attachments. They become the permanent on top plus all abilities from under it.)

Vigilance, ward

1/1

---
Creeping Dread — It is typically good form, for a spell like Artful Dodge and Slip Through Space, to be a sorcery. Otherwise this is fine. 8/10

Empty Vessel:
This is a very interesting card. I think this is about right rate-wise? Very cool flavor wise to boot.
9/10

---
There initially seems to be a girl standing awkwardly, tilted head staring straight into the knight's eyes. In a blink, however, the girl's place was taken by some abstract horror, the geometric structure approximating its 'head' blank save for two massive, glowing 'horns' swirling with bright oranges, whites, and purples. Arms terminating in sharp onyx claws with a radiant sheen slashed at the knight, seemingly taking the confrontation as a threat.

Slayer of Histories



Creature - Eldrazi Drone R
Ward-Discard a card.
When Slayer of Histories enters the battlefield, you may sacrifice another creature. If you do, exile target creature you don't control.
5/4