Post by blueseclipse on Jul 11, 2019 0:22:35 GMT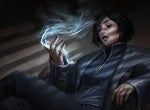 Reality Shift: Very interesting but I don't think this can be below rare. Might also be able to afford being cheaper. 8/10

Doer: Would prefer this with double mana density and/or +2 instead of +3. 8/10
Raging Power: Pretty narrow, should likely cost less. 8/10
My Crushing Victory: Sure. 9/10
Blessing of Evigius: Works. 9/10
"Khon! It's as I told you!", snaps Heldra. Then he calms down. "I'm sorry. I understand wanting to hear it from her. But...", he glances Doer, riding on a dragon, supported by mysterious forces. "...it looks like there won't be time for that."

Lindri is at her limit.
Such a sorry state.
She can't dodge. And she definitely can't parry.
Doer's spear goes through her sternum. An enormous amount of energy is released.
Lindri closes her eyes.
She opens them.
Looking at someone who isn't there.

"Saia Evigal.
You should've picked a different city.
I will not die to this one."
Lindri pulls the spear out of herself, then launches it high into the sky as far as she can, cat attached and all, perhaps far enough to reach into orbit.

She stumbles her way towards Khon. Who knows what in the planes is holding her together now.
"War.
War, the way things have always has been.
War, the way things always will be.
It is what I wanted to show you.
It is how I wanted to live.
It
is
holy.

This is not all I have to say.
But it is all I can say."

Ice has been spreading from her wound, ever so slowly, gradually encompassing her.
Before it's too late, Lindri grabs Khon's glaive and plunges it through her last still functioning heart.
"That's better."
Lindri closes her eyes.
She opens them.
Looking at someone who isn't there.

"It has happened before.
One day, you're going to need me.
You will bring me back.

You will beg me to aid you in your plan.
And I will tell you to fuck off."
Lindri closes her eyes.
"Ah, here we go."

Her body goes limp against the Phyrexian's.

Then it explodes in a myriad of snowflakes.

Heldra dispells his acid barrier.
Her troops watch incredulous as the snowflakes fall.
Everything is over.

Lindri of the Arena



:


Legendary Planeswalker - Lindri

You can't lose the game and your opponents can't win the game.

: Until end of turn, Lindri of the Arena becomes a Vampire Siren creature with flying, indestructible, and power and toughness each equal to the highest power among creatures on the battlefield plus 1. Prevent all damage that would be dealt to her this turn.

: Exile target creature or planeswalker that dealt damage to you or Lindri since the beginning of your last end step. You get an emblem with "Whenever an opponent casts a spell that shares a name with a card in exile, that player loses 10 life."
This card is... a bit worrisome, I think. The Platinum Angel static ability is okay for a WUBRG walker, and the first activated ability is pretty standard (though interestingly, if you have a way to repeatedly activate planeswalker abilities, it can give her continuously increasing P/T since she'd check her own stats once she's a creature). The second activated ability absolutely should not be a + ability at all - and the emblem it grants is either insane (in most formats), or outright worthless (in singleton formats). As an ult, I could see it giving an emblem like that - as it is, I'd say it needs to cause about half as much damage, or only trigger based on cards exiled by Lindri's ability.
7/10
Khon stands there, merely watching as Lindri impales herself upon his blade before bursting into snow. As the others speak among themselves, he sighs, and says to the spot where the woman stood, "To think, all of this was caused by such foolishness... war is not a purpose in itself. It is a means to an end..." He watches as the others disperse, before speaking with Heldra about payment for his services in the battle.