Post by mrlozano on Jun 7, 2019 22:24:38 GMT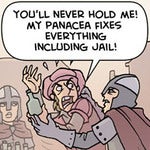 I smiled as I was about to speak, and then I stopped, my eye attracted by an
impossible
glitter in my glass."Huh. It just occurred to me that Rudara might actually want me for the 'indestructible glass' thing. We might need to tweak our strategy - there are all kinds of things we could sneak into the raw materials..."Could Rudara be planning some kind of army? If so..."What are your thoughts on golems?"
Idle Consideration
-

(⁂)
Instant -

Exile the top card of your library. You may play that card this turn.
At the beginning of your end step, gain 1 life for every card you've exiled this turn.
(That weird mana symbol is Pink mana - check the link for details.)
"I've killed some."
That probably doesn't help, but he asked for thoughts and that was my first thougt.
"Should we meowke a golem that blows up in her face, or we have already left the explosions part behind? Or, if you want to meowke a normeowl golem, you can always base it on meow. But I can't assure you it won't start killing randomly."
I lick my paw and look to Mattol.
Bloody Oracle


Creature - Cat Rogue

If a player would exile one or more cards from the top of a library you may have that player exile that many cards plus one instead.
Whenever a player plays a card from exile ~ gets +1/+1 until end of turn.
2/2
Idle Consideration:
Pink is weird but I think I can dig it. This fits very well in your mechanical description of pink, though.
9/10


---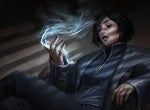 A horde of drooling carcasses drag themselves towards an unknown destination, commanded by the curt martial yells of a winged woman. If she has noticed the cats, she doesn't seem to mind them.
Drooling Shambler


Creature - Zombie

Trample
CARDNAME can't block.

3/2

(
Michi
) Ahhhhhhhhhhhhh! I see the zombie avalanche and I quiver in fear. Doer puts his paw in my shoulder and he pulls me down, behind a bush. He makes me a signal to be silent and takes his Weapon out.
"Brother don't try to fight them." "I won't. But it would be fun." Doer comes out of the bush and shouts at the winged woman. I take my notebook and start taking notes about the zombies. "Winged womeown! Down here! What are these things for?" Alright, it could be worse. "Can I fight them?"
Alright, it probably couldn't be worse.
Stalker's Trick

Instant

Tap target creature. It loses all abilities and has base power and toughness 1/1 until end of turn.
Drooling Shambler:
Alright? Trample is not really black outside of big demons and that stuff so that's a little weird. Mechanically it works though.
7/10