Post by mrlozano on May 29, 2019 11:27:15 GMT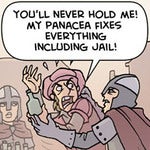 A talking cat? The multiverse is full of wonders."Oh, that? That's my raw materials. I might be able to teach you a trick or two if you have any talent for glassweaving. It's a bit unlikely, though."To demonstrate, I hold out my hand - a small cat sculpture made out of blown glass tumbles gently into my palm.
Precious Bauble
-

Artifact -

When Precious Bauble enters the battlefield or is put into a graveyard from the battlefield, create a colorless Treasure artifact token with "

, sacrifice this artifact: Add one mana of any color".
Credo of the Ruler
- let's give Doer a chance to make his introduction, shall we? Your answer has to be at least one of

.
[Finally! Someone takes meow out to play! I'm sure you won't regret it! Well, I'm not sure.Fine, I'll be true, you are going to regret it. Meow
:3
](
Doer, the Mean Cat
"Who are you calling meown, meowstard??? Anyways, let's get to work.") I see my brother talking to a strange human with a cloud of glass floating behind him. Yeah, that's the typical thing that would amaze my brother. I smell the guy. Hmmmm... A planeswalker. His spark smells bittersweet, as if not everything was right with him. I approach him, in silence and scratch a little glass from his cloud without being noticed. Bah, it's just pretty. I carve an obscene picture of him in it with my claw, when finally they notice me. "Hello, brother! And you, the humeown, also hello to you." I show him the work of art I made. It's pretty rudimentary, but the main idea is clear. I'm mocking him! "Brother! Don't be meown! This human is nice!" Michi turns to the human. "Sorry, meowster! Please, forgive meow brother!"


Doer's Mockery



Sorcery

Destroy target artifact or creature. If an artifact creature is destroyed this way, ~ deals 3 damage to that artifact's controller.
"I could do that with a blindfold!" -Doer[You asked for me, don't complain now!]
Precious Bauble:
Okay? It could cost 1, but fits nice a deck that like sacrificinf artifacts a-la-Daretti.
7/10