Post by korakhos on Apr 4, 2018 1:22:49 GMT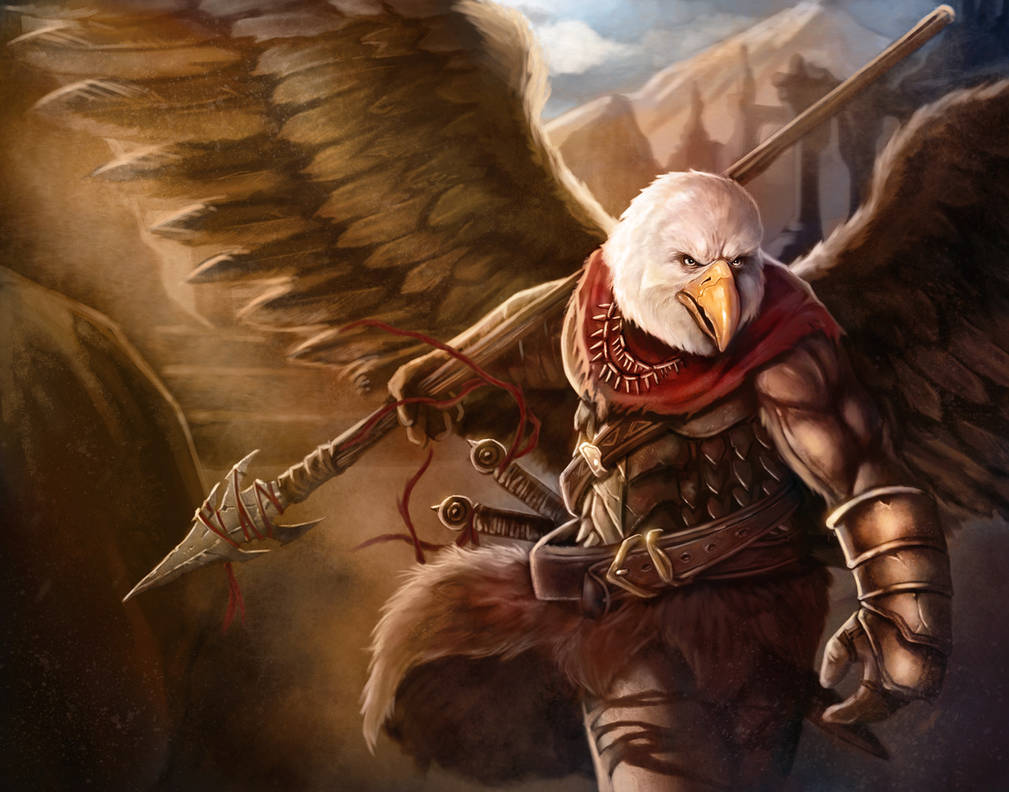 "I'm always up for a challenge."
Colors:


(2 points)
CMC Level: 6 (6 points)
Type Mastery: Creature, Enchantment, Artifact (3 points)
Multicolor Level: 1 (1 point)
Advanced Keywords: None
Perks: Rarity Upgrader, Spellslinger, Artificer (3 point)
Available Skill Points: 2
Can Call Aid From: Magic 2010-2015, 2019/Magic Origins (15/15 Mana Available)
Achievements earned from Aylin: Epic Proportions, Enter the Infinite, Wojek Veteran, Evil Twin, Blind Seer, Akroma's Memorial, Conqueror's Pledge (+7 Skill Points)
Story
Rwaffan was a sigiled knight of Bant. Proud and abnegated, he served his nation in times of peace and war. However, everything changed after the Conflux. Rwaffan was sent alongside an aven army to defeat a dragon from Jund that had been terrorizing some villages, and in trying to do so, his left wing was hurt, the bones breaking and rendering it useless. He was soon captured by a Nacatl tribe and made a prisoner. At first, Rwaffan patiently waited for his people to rescue him, but as days turned to weeks and weeks turned to months, he realized he was all alone, and began despising his former people, renouncing his sigils. As time went by, he proved to be an asset to the tribe that held him hostage, and he eventually was accepted among them, training under their harsh leader Camata until he developed combat abilities he never thought himself capable of. One day, while on the hunt of a baloth that was roaming the tribe, Rwaffan tripped and fell from a tree. His landing would put him right in front of the baloth's path. Not wanting to be trampled to death, he instinctively opened his wings and, even though he didn't receive proper care when he injured his left one and therefore it never healed, he was able to keep himself in the air long enough to only get hit by the baloth's side. He was sent flying away, but the pain from using his broken wing and the adrenaline rush of the whole situation triggered his spark. He was shot into the Blind Eternities and landed in the Arena...
FORMER CHARACTERS:
Aylin
"I don't do boring."
Colors:


(2 points)
CMC Level: 15 (15 points)
Type Mastery: Land, Instant, Sorcery (3 Points)
Perks: Rarity Upgrader (1 point)
Available Skill Points: None
Current Valor: 388 points
Can Call Aid From: Magic 2010-2015, 2019/Magic Origins/Shadows Over Innistrad/New Phyrexia/Amonkhet/Hour of Devastation/The Dark (150V bonus) (70/75 Mana Available)
Story
Not much is known about Aylin's past, for she is pretty vague about it. Her ascension was caused by a traumatic event and, whenever she's asked about it, she either lies or beats up whoever was stupid enough to bring up the subject. She roams the Multiverse wanting to keep her mind busy so she can leave her past behind her. She's usually reserved and hostile, wanting people to challenge her at every second, and she fights for whatever cause she finds more entertaining, without caring about good or evil. Her powers include shaping earth, sand and stone to her will (which she uses both offensively and defensively) and superhuman strength (she can punch several holes into a mountain before she starts feeling any form of pain).
Geomantic Projectile



Sorcery

Damage can't be prevented this turn.
~ deals 5 damage to target creature.
"And that's just a warmup"
-Aylin, the Geomancer
Incite Revolution


Instant

Until end of turn, target creature gets +3/+0, gains haste, and can't attack you or a planeswalker you control.
Every revolution begins with a spark, and some people are walking bonfires.
Shared Anguish



Instant

Until end of turn, whenever you discard a card, target opponent discards a card.
Until end of turn, whenever you lose life, target opponent loses that much life.
Those who bring back Aylin's traumatic past usually suffer the physical consequences of her rage.
Violent Measures



Instant

Players can't gain life this turn.
Until end of turn, creatures you control gain "When this creature dies, it deals 1 damage to each opponent."
"If I'm going out, I'm going out with a blast."