Post by WindyDelcarlo on Apr 7, 2018 9:12:38 GMT
Rel, Scout of the Dairan Empire

By Order of Lord Evun Rex of Silira
Directed to [S-1558 Rel Irkin] of [Daira]
Mission Objective: Secure control of important natural resources.
- Confirm presence of oils, sources of aether, new species of flora and fauna, and other new resources with potential for extraction.
- Chart settlements and residences.
- Chart locations of resources according using standard planar coordinates.
- Secure area in the control of the Dairan Empire.
- Avoid civilian casualties. Casualties of armed responses are permitted.

Where once the Eternity Project inhabited this research facility, there now exists one person. The aether reactor core and the bioatheric technology that was within it has been disassembled, leaving only the shells of the things that were once there. The aether tunnel remains standing, though it is only attached to the slow oscillator now.


Colors
:


[

] (3 Points) [Rel himself cannot use black. However, certain other entities may be able to use it.]
CMC
: 6 (6 Points)
Types
: Artifact, Creature, Land, Enchantment (4 Points)
Multicolor:
1 (1 Point)
Perks
:
Rarity Upgrader (1 Point) [

,

,

]
Artificer (1 Point) [Equipment, Vehicle, Contraption, Fortification]
One With The Void (1 Point) [

]
Explorer (1 Point) [Basic, World]
Keywords
:
Aethercast
-- If


was spent to cast this spell... (1 Point)
Valor
: 233
Total Score:
5566.5 = 1671 (Arina) + 3226 (EPIC) + 213.5 (Kei) + 533 (Rel)
[Arsenal]
- Triumvirate Era Adaptor Pistol - 30 Shots 1.2-T Elemental Energy (Effect: A faint beam of golden energy that doesn't accomplish anything when hitting something.)
- Etherium Dagger - Filigree guard that blends smoothly into a sharp blade.
- Purple-Runed Arquebus - It'll do. Fires rounds, who knows what the enchantments on it do, but it works with replaceable aethersteel and fires straight enough.
Achievements:
Lotus Guardian (EPIC)
Enter the Infinite (Arina)
Three Visits (Kei)
Cartouche of Zeal (Developments)
Wojek Veteran (Arina)
Wojek Veteran (EPIC)
//
Seiva Zeni and the Eternity Project for Interplanar Cooperation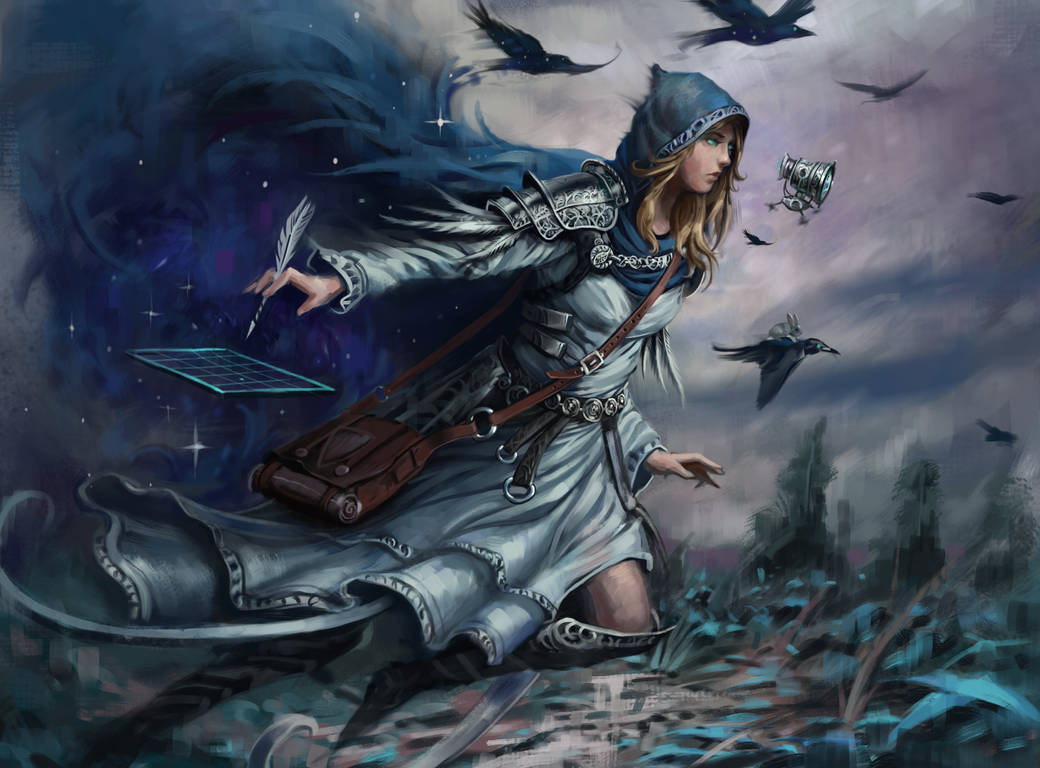 (Art by Jaime Romoser, DeviantART)
A completed outpost is now around the area that EPIC controls. A small office and laboratory complex sits as the main building, no larger than an elementary school with glass exterior walls revealing interior hallways that are further lined by aethersteel interior hallways. Quartz supports and ceiling and a dark wooden flooring seem carefully placed and planned. On the "entrance" side is a clearing, surrounding which are a few other structures. There is the slowly dwindling wooden shack that seems to be remembered only when someone gets bored and wants to break something. Across from it is the collapsed structure that used to be a stone building, but now seems to be four walls pretending to be a home while only containing rubble from the upper floor. Two glass cylinders, one supported on a platform slightly above the other, are on the remaining side. Cables lead from the outpost to the raised cylinder. The other appears to be constantly generating either aether or magic, depending on what the observer considers it.People have returned to a outside existence now that the world is less hostile. Ani spends a lot of time with Leira away from the outpost, spreading the Phyrexian inoculation. Nearby, the open-air restaurant has closed down to pursue new endeavors. The only remnant of the place is a single table with a chocolate cake on a ceramic plate. You would expect that a cake open to the air would have dried out by this point. You would be wrong.
Colors:
(

)





(5 Points)
CMC
: 6 (6 Points)
Types:
Instant, Sorcery, Enchantment, Artifact, Creature, Land (6 Points)
Multicolor:
1 (1 Point)
Perks:
Rarity Upgrader (1 Point)
Questmaster (1 Point)
Touch of the Void (1 Point)
Artificer (1 Point)
Multityper (1 Point)
Enchanter (1 Point)
Keywords:
Develop N—<cost>
(<cost>: Note your name and put a development counter on this. Any player may develop this as a sorcery if there are less than N counters on this.)
(1 Point)
Commit X
(As you cast this spell, each other player may pay X. For each player who does, you and that player each copy this spell.)
(1 Point)
Investigate (1 Point)
Persist (1 Point)
Recover (1 Point)
Aethercast —
If


was spent to cast this spell...

(an energy counter)
(1 Point)
Valor:
1426
Score:
3226
Call Aid:
Guilds of Ravnica, Kaladesh
Seiva Zeni
(Head Advisor of EPIC, Recovering)
[26-year-old cryomancer from Entela. She joined the Eternity Project as a student when she was 14. Seiva is widely regarded as "the reason the Eternity Project works" because of how passionately she works for goals of a connected future and her ability to understand why and how the Tunnel works. She has long, light brown hair and silvery eyes.]
Color:


"Seiva Zeni, Head Advisor of the Eternity Project for Interplanar Cooperation." (e5b300)
Estova Rei
(Core Engineer)
[23-year old core engineer from Entela. Estova's a well-known flirt in Entela who's asked out every of-age female he's met at least once, including Seiva twice. While she finds him annoying to interact with, he knows what he's doing and was chosen by Seiva to help the Eternity Project. He's taller than the rest of EPIC and has dark hair and bright red eyes.]
Color:



"Name's Estova, game's the best reactor you'll ever see." (db9d9b)
Varei Maristo
(Energist)
[47-year-old mathmatician from Entela. Varei was part of the original Eternity Project for Interplanar Development back when it was still trying to escape Volaria. "How long can we hold a seven-two", referring to the highest energy pulse Varei had ever seen, is now a question from Seiva that haunts his memories, and his willingness to trust her is why Seiva asked him to stick around for the new era of EPIC's quest. Varei has long, magically silvery hair and golden eyes.]
Color:

"Our continued existence perplexes me, but it isn't my decision to make." (85b2b2)


Haia Kenei
(Architect)
[21-year-old architect originally from Litara. Haia moved to Entela only a few months prior to joining the Eternity Project but her skills and imagination in architecture caused Sara to quickly appoint her to Seiva. She has blonde hair, light-blue eyes, and glasses, and a hard time interacting with people.]
Color:



"Y-you're talking to me? I-I'm a bit busy, please go talk to Seiva..." (698c8c)


Ani Soei
(Bioaetherics Student)
[14-year-old bioaetherics student from Entela. Ani has problems staying focused on one particular task and can frequently forget important details. Entelan psycomagicians have developed spells to help Ani and people with similar disorders, so Ani can spent time focusing on important tasks. He's especially good at learning and recalling spells and bioaetherics information, so he was chosen by Sara as the "student" role for the Arena's Eternity Project. He has short brown hair and dark blue eyes.]
Color:


"I'm here to help. The black oil's going to stop being a problem." (77ccdd)


Neso Aris
(Recorder / Subject)
[32-year-old elven librarian from Entela. Neso briefly lived in Mirora to work with their library in his early 20's. Upon returning to Entela, he started keeping a collection of physical copies of Entelan books so that he could ship them to contacts on the other side of the continent. His organization with these books wasn't missed by Master Sara, who asked him to keep notes for Project Eternity. Neso is shorter than most of the Eternity Project, with dark blue eyes and longer black hair.]
Color:


"From aether research to solving an interplanar pandemic, you say?" (400080)
Leira Hoserai
(Ancient Historian)
[22-year-old historian and linguist from Entela. Leira spent a while in Tirena and Oscura on various cultural exchange programs during school to study the way they keep track of history, which lead Sara to point her out to Seiva. She's fully fluent in Ancient Volarian and now mostly understanding of Sanaerti's language. She has short dark hair and near-black eyes.]
Color:


"Ria very much likes explosions." (191919)
Kaira Veis
(Aether Technician / Material Effects,
Deceased
)
[34-year-old aether technician and duelist from Entela. Kaira studied aethertech as a way to do new things with the concept of adaptor pistols, since the way they work leaves much room for improvement. She was contacted as someone interested in experimental weaponry when EPIC obtained their first tenebrite rifle. Kaira had dark brown hair and eyes.]
Color:



"Solari guide your soul to peace, Kaira."
Kirilo Rekasai
(Cleric of Solari)
[69-year-old cleric from Theria. Kirilo was a prominent religious figure in Theria that traveled the world to help organize the followers of the Church of Solari. Master Ayra of Theria sent him to Entela to confirm that what Sara and Seiva said about the Eternity Project's goals were true, and to serve as the first interplanar bishop of the Church of Solari on The Arena if it was. Kirilo has cleanly yellow eyes and short, curly light brown hair. He is always wearing the robes of the Church of Solari: Entirely white, with the exception of lime green on any edges and a yellow 4-pointed star emblem on the chest.]
Color:


"May the light of Solari guide your way." (4caa00)


Kei Aliri
(Community Service)
[64-year-old summoner from Entela. Kei was previously the final partner of Lezyn Ylerne and Master Sara's mother. When Lezyn tried to erase her memories with the rest of Entela, she sparked and fled. Seeing interplanar organizations damaging planes and causing war caused her to hold prejudices against interplanar organizations, and those prejudices caused her to attempt to destroy the Eternity Project. She failed, and she was sentenced to fix the damage she caused. She has black hair and dark grey eyes.]
Color:


"I am only here as long as I need to be. You would be better off talking to someone else." (3e2a75)
Aeryl Kestei
(Owner of the Ebony Phoenix)
[36-year-old restaurant owner from Entela. Aeryl owns one of the most famous restaurants in Entela, most well-known for its cheaper prices and the large variety of food. Aeryl wants to expand into a culinary empire to bring food from across Volaria to across the multiverse and vice versa. He has permission to operate from the Master of Entela, despite Seiva's disagreement. He has short black hair and golden eyes. He looks professional any time he's on the job.]
Color:



Enjoy the cake, ya got it? ~ Aeryl (007f0f)



Other Transceiver Contacts:

Arina Nisita
(Ancient Historian)
[31-year-old cryomancer historian from Shaidosta. Arina is a planeswalker who is supposed to be the proper heir of the city of Shaidosta. At the present moment, Arina is doing other research tasks, some for EPIC and some of her own accord. This research often leaves her spending little time at home with Hannah. She has long blond hair and has piercing, icy blue eyes. Frequently she wears glasses, but they aren't necessary for her vision and only serve as an enhancement.]
Color:


"I have returned home." (1979e6)


Hannah Delcarlo-Nisita
(Core Engineering Student)
[10-year-old core engineering student from Entela. Hannah is the daughter of two planeswalkers, and the stories of their romance and the interplanar worlds lead to her endless interest in the multiverse. Because of her parents' connection to Master Sara and Seiva, Hannah gets away with more than others her age. She was the first non-planeswalker Entelan on The Arena, sent to set up the Aether Tunnel for EPIC to use when they arrived. She now has a girlfriend that she met while on The Arena. Hannah has long blond hair and brown eyes.]
Color:


"I'm gonna be the head engineer of Entela someday!" (1919e6)


Fulmen Delcarlo
(Aether Technician)
[31-year-old electromancer from Seven Row, Hasin, Virilin. Fulmen came to Entela as a teenager when his planeswalker spark ignited, and while he didn't have a hard time quickly picking up what was happening on this new world, his easily distracted nature means that sometimes easy tasks (like not destroying circuit components) are beyond his capabilities. Fulmen is a duelist and Hannah's father, but doesn't do any work for EPIC at the current time. He has longer messy brown hair, brown eyes, and always wears glasses.]
Color:


"I don't really get how fifty inductors just vanish." (e61919)


Sara Ylerne
(Elemental Master of Entela)
[31-year-old entali hybrid from Entela. Sara underwent an elemental hybridization process when she was 6 in an attempt to counteract a lethal disease. Her new partially-elemental form stopped aging when she was 11, but her small stature has not stopped her from being one of the most influential Entelans in Volarian history. Her elemental form grants her a near-infinite memory and surface thought detection, which she uses to be able to talk to and remember every single Entelan at least once a month. Her skin glows gold lightly, and she has a flat golden gaze with long white hair.]
Color:


"I have full confidence in the Eternity Project." (ea7325)
Tano Resaino
(Construction)
[16-year-old construction worker from Mileran. Tano came from a family construction company that specialized in stonework. He is always interested in taking on tasks that he knows how to do, but when the Mileran government asked his company if they could spare people for a new special interplanar project, he jumped at the opportunity to see something different. Tano has silvery eyes and short black hair.]
Color:


"Heyo! Buildin' houses! Heyo! Buildin' homes!" ♪ (00cc77)
Kesai Teru
(Construction)
[18-year-old construction worker from Mileran. Kesai was one of Tano's childhood friends. She came from a friendly rival company that worked mostly with glass and metal, such that many buildings would require assistance from both companies if they wanted to be designed the best possible. Tano recommended her company to the Mileran government when he was given the job request, and Kesai was more than happy to have the new job. Kesai has silvery eyes and long blond hair.]
Color:


"Heyo! Buildin' lives! Heyo! Buildin' times!" ♪ (7700cc)
"Researching the history of people in the arena. I am not making much in the way of new developments." (1979e6)Colors:


(

) (3 Points)
Poison: 4/10. Whoops.
CMC:
7 (7 Points)
Types:
Instant, Sorcery, Artifact, Enchantment (4 Points)
Multicolor:
1 (1 Point)
Perks:
Tactical Imperator (2 Points)
Rarity Upgrader (1 Point)
Questmaster (1 Point)
Keywords:
Flashback (1 Point)
Cooperation
(Any player may spend mana to pay for

.)
(1 Point)
Develop N—
<cost> (<cost>: Note your name and put a development counter on this. Any player may develop this as a sorcery if there are less than N counters on this.)
(1 Point)
Philosophy <cost>
(You may cast this card from your hand for its philosophy cost. If you do, exile it as it resolves. Whenever you draw a card, you may cast this card from exile.)
(1 Point)
Valor:
362
Score: 1662

Mana Pool:
60/60
Call Aid:
M10-Origins, Ravnica: City of Guilds, Guilds of Ravnica, Battlebond, 7 Other Sets
Kei, Cleric of Darkness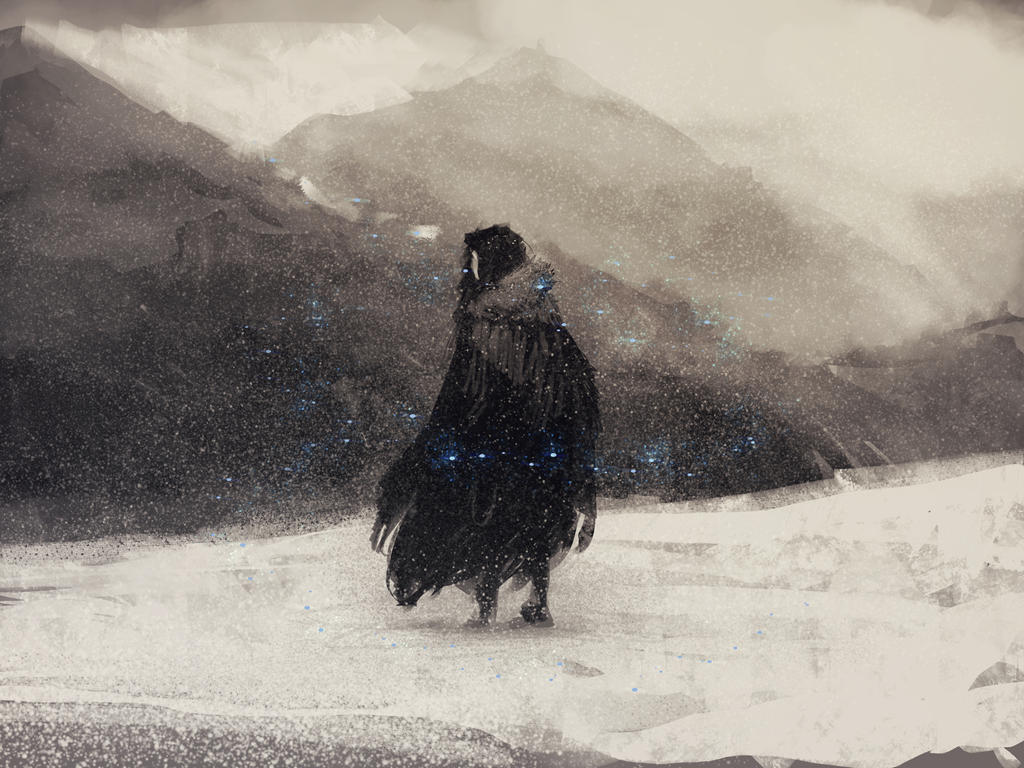 "No, you truly do not have to worry about me. I can take care of myself, and you are not my target." (3e2a75)
Colors:


(2 Points)
CMC:
5 (5 Points)
Types:
Enchantment, Creature, Instant, Sorcery (4 Points)
Multicolor
:
1 (1 Point)
Perks:
Rarity Upgrader (1 Point)
Questmaster (1 Point)
Enchanter (1 Point)
Multityper (1 Point)
Keywords
:

Wither (1 Point)
Valor
: 63.5