Post by Popcornia on Apr 26, 2019 1:09:47 GMT
Artist Credit ->
Josu Hernaiz

Kadri Blueswale
Dread Pirate of the Many Seas
"I always get what I want."
#264186
Mana Value Level
-

Colors



Multicolor Level
- 1
Types
- Artifact, Creature, Instant, Land, Sorcery
Mechanics
Raid
- If you attacked this turn, [Effect].

Perks
-
Rarity Upgrader
(Unlocks

and

)

Questmaster
(Unlocks Legendary)

Artificer
(Unlocks Equipment, Fortification, Vehicle, Contraption and their corresponding keywords)
Multityper (Allows combined typing)

Advanced Perks

Sigil of the Commander (Allows you to set a single card in your Command Zone to serve as your Commander, of any type that your character can create. If the card is an Artifact, Creature, Enchantment, Instant, Land, Planeswalker, Sorcery, or other card type that normally is part of the deck itself, then an amount of mana equal to the card's CMC is reserved for this card.)

Artist Credit
- Phil C.
Score // Valor // Skill Points

127 // 27 // 21/21
Call for Aid
- 4/4
4th - 9th Edition, M10 - M15, Origins (Ori), M19 - M21
Achievements
Three Visits
- You are on your third or higher character
Initial Build (3/17/21): -- CMC 6, UB, Artifact, Creature, Instant, Land, Sorcery. Rarity Upgrader, Questmaster, Artificer, Open the Vaults: Crownwell
3/21/21: - Fixed Perk choice of Open the Vault: Meant to be Sigil of the Commander. Reserved six mana for Crownwell.
---
Who is Kadri?
Kadri is a veteran pirate who has sailed across the Multiverse, flanked by her undead crew upon her signature vessel the Crownwell. Her means of transporting either are well kept secrets, and those who would know to ask are often met with the swift reply of landing parties and cannon fire. She seems to care little, however, for the trinkets and treasures she collects, and her habit of not remaining anywhere for long hint she may be running away from something else. What it is, only she would know.
---
Locations + How to Find Them
Kadri sticks to her vessel, the Crownwell, but occasionally makes her way near or a short distance onto shore. She will never be found inland by choice, and anyone attempting to drive her there will face her fury.
---
Be rich. Be poor. Be willing to dare the unknown. Be willing to stand up against her crew. Stay near the coasts. Promise something valuable. Make her angry.


---

This section is empty, but it won't be for long...
---
Previous Characters (Not Voided)

(Art by Leote Duran: -> Here)
Rudara of Many Realms
Goddess Reincarnated



"I will find out who, and what, I am in time. Until then, stay out of my way."

"This world is chaotic, uncontrolled, and suffers at the whims of outsiders. I shall be the one to steer it to greatness."

"I am but a god to these people."

"Whatever force that will ruin this world, I shall find it. I shall corner it. I shall make it wish it had never known me. Then I will destroy it."

"I will return."
#8533dd
CMC Level - 5
Types - Artifact, Creature, Conspiracy, Enchantment, Land, Instant, Planeswalker, Sorcery
Multicolor Level - 4
Mechanics
- Cycling [Cost] ([Cost], Discard this card: Draw a card.)
- Ascend (If you control ten or more permanents, you get the city's blessing for the rest of the game.)
Perks -
Renowned Spy - Rudara can use Conspiracy cards!
Rarity Upgrader - Rudara can use rare, mythic, and special cards!
A Sinister Decree - Rudara can use Schemes!
Questmaster: Rudara can use legendary cards!
Multityper: Rudara can combine types!
Score // Valor// Skill Points
2004 // 04 // 30/30

Call for Aid - 42/44
M10, M11, M12, M13, M14, M15, Origins(Ori), M19
Conspiracy, Conspiracy - Take the Crown, Dominaria, War of the Spark, Archenemy, Guildpact, Modern Horizons, Future Sight, Theros
+10 (TBD)

Achievements
Lotus Guardian
Wojek Veteran
Holistic Wisdom
Conflux
Helix Pinnacle
Old Fogey
Blind Seer(Time Spiral, Planar Chaos, Shadows over Innistrad, Eldritch Moon)
Initial Build -- WUBRG, Creatures, Multicolor Level 1, CMC 3
4/27/19 -- +1 Type Mastery: Sorcery,
4/28/19 -- Rudara gained Renowned Spy, Rudara can call for aid from Conspiracy - Take the Crown

5/2/19 -- Rudara has gained Rarity Upgrader, Rudara can call for aid from Dominaria

5/8/19 - Rudara has gained 1 CMC Point, Allowing her to use spells of CMC 4 or less!

5/10/19 - +1 Type Mastery: Enchantment

5/12/19 - +1 Type Mastery: Instant, Rudara can call aid from Archenemy!

5/16 /19 Rudara can call aid from Guildpact (Originally had Dissension before realizing I messed up.) Edit: +1 Mastery: Artifact

5/19/19 - Rudara has gained A Sinister Decree. She can now use Schemes!

5/22/19 - +1 Type Mastery: Land

5/29/19 - +3 CFA Sets: Modern Horizons, Future Sight, Theros

5/30/19 +1 Mechanic: Cycling, +1 CMC point

6/4/19 + 1 Mechanic; Ascend!

6/9/2019: +1 Perk: Questmaster!

6/14/19: Rudara Spent 4 Skillpoints! +3 Multicolor. +1 Type: Planeswalker!

6/24/19: +1 Perk: Multityper

6/26/19: +4 CFA Sets Purchased: Time Spiral, Planar Chaos, Shadows over Innistrad, Eldritch Moon
---
Who is Rudara?
A powerful figure with few memories of her previous life, Rudara awoke on a plane unfamiliar to her, with powers even more so. Though her abilities at the moment are limited, it is only a matter of time until she relearns her forgotten powers. With a natural affinity towards all colors of magic, there are few moments when she is truly defenseless.
---
Locations
The doors of secrecy have been closed.
All shall know the one who controls this city.
---
The Story So Far




For the first time since she had found herself on this world, Rudara was content.
Not entirely, of course. No one was truly content: whatever subconscious memories she had indicated this truth. The moment one had fully found everything they wanted in life was the moment they had no reason to live anymore. At least to Rudara.



But she found some measure of this emotion in her current surroundings. Behind a wall beneath a building in some hidden corner of this city, Rudara had a place of her own. It was a place for her to work, a place for her to rest, and most importantly, a place for her to conspire.
In the short time she had come to this world, a dozen or so had flocked to work under her wing, all from various professions. Whether they saw her as a powerful figure, an opportunity to get rich, or an incarnation of a deity, she knew only the uppermost specifics. Some would claim she hadn't done enough to know her employees. Rudara would say she knew enough to act against them, should they attempt to work against her.



As everyone knew, information was a weapon in the right hands, but Rudarah had more than just information at her disposal. She had her own set of skills, skills that were only growing with each day.
Eventually, she reasoned, the city would be hers. One way or the other.
- Rudara has gained Renowned Spy!
Rudara's time since her last moment of introspection had been busy, to say the least. The longer she spent learning of this world, engaging its inhabitants, observing its oddities, and speaking with the 'visitors,' the more she realized a simple, innocuous fact.

A two-sided coin, to use a turn of phrase. Rudara knew that, unopposed, she would eventually be able to reveal herself in full to the population, and become their new icon of worship. Those who resisted her godhood would easily be crushed, the old gods assimilated, downplayed, and forgotten, and her rule would claim this world for herself.



Even before this revelation, she knew that she would have enemies, those who likely had learned of her already, and had begun their own schemes to counteract her plans. But they were inconsequential, predictable mortals, pawns of pawns who dressed themselves enough to believe they were kings. They would not go quietly, and Rudara would have not denied them this.



But now she had come to term with two facts. One, there were visitors from outside of this world, who frequented it, regularly interacted with its inhabitants and poisoned them with their ideas. Two, these visitors had their own vested interests in the plane, at least two had confessed their interests extended beyond just themselves.



These were the unpredictable factor in her path to ascension, there was no need to further elaborate. And yet...the fact that things would not proceed as smoothly as she has planned was…



Exciting.

- As her resolve grows stronger, Rudara's CMC level goes to 4!
Rudara was not a war tactician. Tacticians worked under the premise that they had limited resources and limited information, no matter the obvious advantage they had over their enemy. Even the slightest bit of information on either side of a conflict could change the outcome of the encounter, and levy any disadvantage into advantage.



Rudara only had a limited amount of information. Information was not spun from the Aether at her whim. Information was not forged from the strongest metals and crafted into metaphorical blades. Information was not limitless, and to presume an aura of omnipotence would only doom her in the end.
Resources, on the other hand, were quite abundant. Day in, day out, another soul came to her cause. Those who had first come under her employ in dark alleys, for profit or faith, now spoke her name in reverence. Either in service of the lip or service of the faith. Rudara's influence was spreading from beneath the city, and into its upper echelons. Unrest was growing, faith was wavering, and eventually, she would have her city, and the ability to do with it what she pleased.
But Rudara, now surrounded by tomes, sketches, writings, and more, still lacked information. It was the one advantage her foes, be they local or a planeswalker, still could weigh over her. No matter how much effort she put beforehand, even the smallest hidden secret could change the outcome of any encounter.
Rudara closed her tome, and put it back on the table. She allowed a single sigh to escape, and put a hand to the bridge of her nose. One of her agents had made the gesture in her presence, and she could understand the need for it.
She had plenty of work left to do.

Rudara has gained +1 Mastery: Instants!
High above, from the tallest building in the Sanaerti, Rudara watched as the city, no, her city, reacted to her surprise visitation. Technically, she hadn't appeared in person. But a voice a flame of purple fire was enough to convince some people outright. And what that hadn't accomplished, the many devoted voices throughout the city were doing more. Yes, they had done many things for her from the start. All of her original agents now believed, one way or the other, in her divinity, and those who still didn't had politely, but firmly, been replaced by more ardent members.
Below, the burning of her purple flames throughout the city had gotten the message across to anyone who was still ignorant of her. Something major was happening, and those who did not adapt would find themselves sinking beneath the tide of her influence.

Behind her was a battalion of the finest soldiers in the city, all awaiting orders. The previous owner of her current occupation had politely decided to exit once Rudara had appeared before him. He hadn't believed in her until she had stepped into his home, and he would leave, not believing in her. It mattered not. She was the one with the power here.



The time of living in the undercity was over. Here, she was a god. A god who deserved a palace right for her to live in. Where she would observe her domain from the highest tower of the highest city of all the land. Rudara, as rarely as ever, smirked, seeing something of interest in the ordered chaos below.

It seemed more than just the expected people had arrived to participate in her trials. The strangers from other worlds. Unpredictable, but not necessarily uncontrollable. She made a gesture to her guards. There were preparations to be made.

And celebrations to be had.

She was, after all, about to make her grand appearance.
Rudara stepped out into the afternoon sun, the orange rays of the ending day still strong despite their master's descent into the horizon. Below her, the goddess heard a mix of gasps and cheers as she revealed herself to the people of the city. The goddess gave a small smile, taking in how her imagery had covered this vast city that had once been ignorant of her identity, of her power, her influence over this world.
She looked over the amassed crowd, many of whom were now cheering her name as she blessed them with her presence. Rudara was more than a figure to these people now. She was a living, breathing icon to be emulated, worshipped, and cherished.

Now she had but one task. To lead the people who followed her and those who would follow her even without praising her name.

She was inevitable. Sanaerti was awash in her image, and soon, the plane at large would witness her and all she would offer to the mortals of this realm.
She would be their Godhead.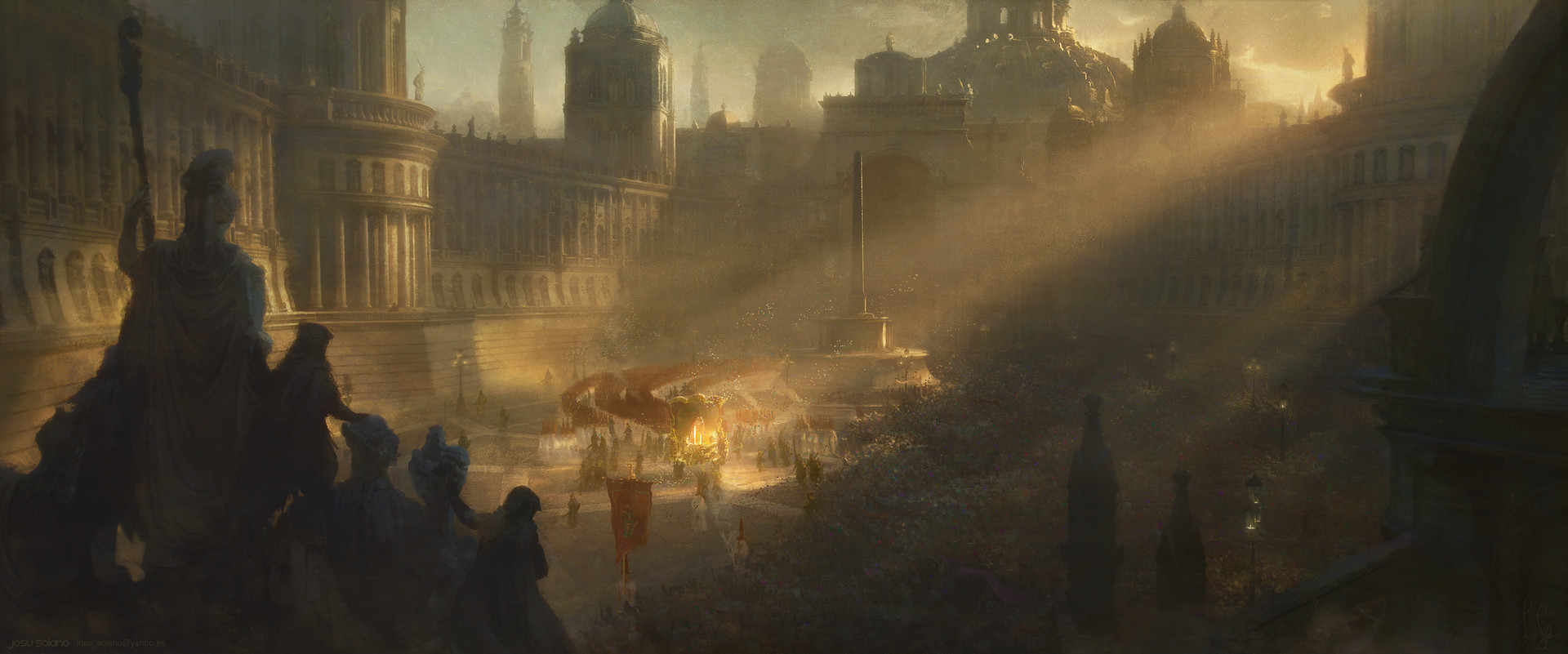 (Art by Josu Solano)
Art by ->
Tyler Clark

Seska Erweih
Aether-Mage of Hoclund
"There's so much we don't know yet. What else will magic teach us?'"
"If this place wasn't a dream...then why do I keep returning?"
#2e866d
CMC Level
-
5
Colors

WUBRG
Multicolor Level
- 4
Types
- Creature, Enchantment, Planeswalker, Instant
Mechanics
None...for now


Perks
-
Rarity Upgrader
(Unlocks

and

)
Questmaster
(Unlocks Legendary)

Enchanter
(Auras, Shrines, Curses, Sagas)
Advanced Perks

Seska will eventually learn some rather interesting abilities. But for now, no such luck.


Score // Valor // Skill Points

577 // 177 // 18/18
Call for Aid
- 10/10
M11, M12, M13, M14, M15, Origins (Ori), M19, M20
Achievements
Initial Build: -- WUBRG, CMC 5, Multicolor 4, Creatures, Rarity Upgrader, Questmaster

7/2/20 - Added Card Type: Enchantment
7/26/20 - Added Card Type: Instant
8/3/20 - Added Card Type: Planeswalker
8/16/20 - Unlocked Enchanter (Auras, Curses, Shrines, and Sagas)
---
Who is Seska?
Seska is a young academy student from the plane of Idwol, a relatively peaceful plane where she learned the first tenets of conjuration. She has since begun exploring the Multiverse, and finds most worlds far more combative than her own, idyllic home plane.
[
This post for context
]
Seska is an aether-mage from the plane of Idwol, and this is not her first time in the Arena.
---
Locations + How to Find Them
Seska has found a quiet little town near a river to settle into, often leaving her small temporary abode with more books than she entered with. It's not perfect, but the sight of fields of vegetables and grains reminds her of home.

Follow the sounds of burning aether.


---
Seska enjoys exploring the Arena, and will often be found attempting to study seemingly mundane places or people. She often deflects with an excuse of "it's not like home" while also commenting on how everything is so "hostile" here. Perhaps there's more to her than she's letting on...

Seska has many memories of the Arena, perhaps some of them weren't all that bad, much as she would say otherwise.


---
This section is empty, but it won't be for long...