Post by Popcornia on May 16, 2023 15:50:52 GMT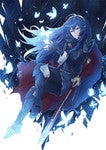 Soil Rotation: 9/10.
Yeah,
Restore
can have flashback. The name makes me think it's a play on
Crop Rotation
, though.
True to Arandu's prediction, Tokata did not recognize the tool, but figured it was for poking the ground in some form or another. Tokata and Imad both followed as gestured, and bowed their heads upon realizing that a prayer was taking place.
"A
lot
more people? Huh. On Ipharad us sages go around in small groups. That's cool, though, I'd never thought to make a party of it. And yeah, I think with all that happens here, planting some crops is one of the least egregious things you could do."
From within his cloak, how much did that thing hold exactly, Arandu pulled out a flask, from which he pulled off the stopped and handed it to Tokata. "It's chica, it's tradition to offer it to everyone attending, and I try not to enjoy it too much when there's work to be done. This is also my only flask."

If Tokata accepted, she'd experience a bitter, milky fluid with a sour aftertaste, with Arandu taking a sip himself regardless of if she tried it or not. Slipping it back into his belongings, Arandu gestured for Tokata and Imad to follow him into the garden.

Tokata accepts the flask, lifts up her mask, and takes a sip, expecting something vaguely bitter, and so does not seem surprised by the taste. She lowers the mask as she returns the flask, then both return to the garden.
Picking up the tool once more, Arandu positioned the head of the tool against the soil, placing a foot against the axle as he tightened his grip on both handles. With a grunt of exertion, Arandu pushed the tool into the soil using his foot, before rotating the tool using the axle as it rested against the group, and ploughing up a small section of the soil.

Finished with his demonstration, Arandu turned back to the two observers. "Well, now we can begin. Imad, do you think you can use this?"
The mask nods, and the cloud moves forward to engulf the tool. While little of the handle remains visible, a glint of the head can be seen as it escapes the cloud only to be driven into the dirt. With a similar rotation and extraction of the tool, the cloud moves away, revealing a small portion of ploughed ground, similar to Arandu's.
"I guess that's a 'yes'."
Rites of Growth

Enchantment

Whenever you cast a spell from your graveyard, or a land enters the battlefield from your graveyard, if you control no creatures, create a 1/1 green Saproling creature token. Otherwise, put a +1/+1 counter on target creature you control.
Arandu allows himself a smile, turning to Tokata.
"Well, we'll get to work then. I should have an estimate for you of when to expect your payment, but you're free to return at any time. I'll return with Imad to you once we've finished here."
He returns to the spirit, and began instructing him further.
"Now, this is technically nonstandard, but we're going to be plowing in a circular pattern. So in order to do that..."
Arandu began explaining in earnest, leaving Tokata to do as she willed until they were done.
---
Rites of Growth
: Cute.
8/10
. I like niche uncommon enchantments, this one is specific enough I think it's hinting at a very cool deck strategy.