Post by Daij_Djan on Apr 1, 2019 10:49:15 GMT
Welcome to the Card of the Week Contest! To participate in this Contest you'll have to design a card along the contest guidelines and throw it into the arena with other competitors' entries! At the end of each week, a winner will be determined by forum poll. The winner's card will be rendered and featured on the Welcome page, and the winner decides the challenge for the next week's Contest!
Here we go, competitors: our two-hundred and sixty-first challenge!
---
The winner of the "Been Here All Along" poll were

Daij_Djan

(left) and

kinotherapy

(right) with...
And the final challenge issued by one of our winners was...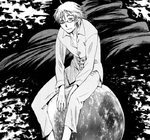 As you might have heard, WotC yesterday revealed
uncommon Planeswalkers
being a thing in the upcoming
War of the Spark
set. For me having lost interest in Magic for quite a while now, this really was the last straw. As such, I've decided to finally quit Magic alltogether and therefore my work here in the forum as well. Looking at my last week's CotW entry, it should come to no surprise to any of you that I have decided to instead move over to a different TCG which treats its game's flavor and mechanical integrity in a much better way: Yu-Gi-Oh.
As a final parting gift, please show me once again how WotC should have done it and
design a mythic version for one of the planeswalkers featured in War of the Spark not receiving a mythic card already.
(As MaRo confirmed, Liliana, Gideon and Bolas will be the only three mythic planeswalkers within the set.)
*drops mic*
EDIT: For the record, this was obviously an april fool's joke - the challenge however is none

To increase your chances of winning and to also make creating the poll easier on whomever is doing so, please try to use a render.
Additionally, please try to keep your entry edits all in one post - if you need to change it you can put your old entry in a spoiler marked "Old entry" and leave the newest rendition to be seen. Just use the edit button in the top/right of your original post.
And now, time to begin the challenge!
Best of luck, competitors!