Post by ZephyrPhantom on Mar 5, 2020 15:08:36 GMT
It's actually a pretty slow deck - in that test game, I lucked into having a Distorting Lens and a few Hydroblasts in my opening hand, and then I kept drawing more. Further tests against more aggressive decks indicated that it (predictably) falls apart against anything that can generate a wide enough presence. The fact that it completely lacks card draw does not help its case.
Yeah, I can't help but wonder if it would actually just be better to have a bunch of
Opt
s and forgo trying to hedge against go-wide decks entirely. My testing in Forge had similar results, I often found myself drawing too many Blast type efforts or too many color changers when I needed one or the other.
It's making me curious about trying to make a budget deck that exploits cards that change land types. Might be an interesting brew.

Funnily enough, I do feel like it's worth pointing out
Spreading Seas
is considered extremely useful for similar reasons - in the worst case scenario, it'll always draw you a card. In addition to the numerous variations on
Evil Presence
and cantrip-less
Spreading Seas
printed over the years to fill packs, there's also
Naked Singularity
and
Reality Twist
, though for obvious reasons they seem almost impossible to use.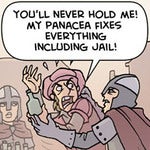 It's kinda absurd to me that Loam Lion is 5 times as expensive as Sunblade Elf - I guess getting an early +0/+1 is better than having the potential to pump the whole field in the late game?
When
Shock
is the average 1 mana burn spell in Standard, pretty much, yeah. Likewise, a creature or Planeswalker's success in Modern can be dependent on if they survive
Lightning Bolt
or not. A turn 2
Thought-Knot Seer
or
Tarmogoyf
is a very different play than a turn 2
Kalonian Tusker
. Every aggressive one-drop in Naya colors ultimately has to compete against
Wild Nacatl
and
Goblin Guide
if we're just talking raw power and toughness (
Monastery Swiftspear
and the like are slightly different in terms of use case) - if you're not as threatening as either, you're going to have a very hard time being justified as a popular buy.
Personally, I'm more surprised by how "forgettable"
Good-Fortune Unicorn
ends up being. It's Uncommon, so it can't be relevant in Pauper, it's not Legendary, so unlike
Grumgully, the Generous
it pretty much has a near-zero hope of being looked at as a Commander, and it wasn't even printed in a set for Standard, so it likely will be completely forgotten about. That said, that's probably a good thing because now it's a solid cheap casual card we can use.
With that said, here's a deck that clocks in at about 7-8 USD:
Budget Unicorn Weenie
2
Wishmonger
4
Mesa Unicorn
4
Ronom Unicorn
4
Adarkar Unicorn
3
Revered Unicorn
4
Angel of Vitality
3
Pianna, Nomad Captain
4
Mighty Leap
4
GO TO JAIL
4
Oblation
24
Plains
Despite being an Un-card, GO TO JAIL is about as close to an unconditional ultra-budget
On Thin Ice
/
Path to Exile
variant as you'll get.
This deck's plan is based around what I would consider to be one of the worst value combos I've ever made - use Adarkar Unicorn to pay for Revered Unicorn for "possible" massive lategame life gain to power up Angel of Vitality. Said combo is so slow and terrible that you're probably more likely to win with the default white weenie stratetgy, with
Pianna, Nomad Captain
being the cheapest possible anthem effect I could find. Oblation doubles as removal and card draw and is the most expensive card in the deck, clocking in at 0.57 US per Oblation.
I could replace Pianna and Oblation with even cheaper cards and likely bring it below 5 USD, but this deck is so terrible that I think it frankly needs the help. That said, this deck might have given me an idea for a working less than 5 USD deck, so I'll be working on that next.