Post by mrlozano on Sept 24, 2019 15:59:58 GMT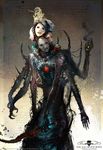 place
and not just a long stretch of track. Back before the… Rev… before the Revelation." She downs the rest of the bottle and reaches for another. "Glad to be outta there. Spent half my time hidin' in cramped railcars and the other half runnin' fer my life. Travelin' the Multiverse's got the same thrill and a fraction a' the existential dread."
She sets another empty bottle on the table. "How about you, Mish? Wha's yer deal?"
End of the Line

Instant

Cast this spell only during combat after blockers are declared.
Target unblocked attacking creature becomes blocked. ~ deals 3 damage to that creature.
Mish? I like it.
"I also travel the Meowtiverse. With meow brother. He likes hunting beasts, meownsters and that stuff. I'm meowre of the scientist type, I like learning about all kind of things. Meow brother says that I should think less and feel meowre but I'm fine as is."
That Revelation thing seems interesting. But also not something she likes to talk about. Empathy. Don't push the conversation in that direction, Michi.
"I've never returned to my home plane since I left. It wasn't special at all, for what I recall. Some wizards and stuff, nothing more."
I smile to her.
"Right now, I'm studying the displacement of items through the Eternities. Meow brother says I can meowke a weapon with it, but I want use it to heal diseases. Anyways, science stuff, I don't know if you like that, meowstress Sullivan. Meow I call you Jane?"
Aldrana, Academy of Magic and War
Legendary Land


: Add

.

: Add

,

or

. Spend that mana only to cast noncreature spells and only during combat. When it is spent to cast an instant or sorcery spell, copy that spell and you may choose new targets for the copy.
In the High Academy of Aldrana students learn the secrets of the world and the art of war.
End of the Line:
I think this doesn't really need the during combat part. Also, it looks strong at just one white? The idea is nice, though.
8/10