Post by Lady Mapi on Apr 4, 2019 20:25:54 GMT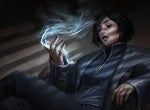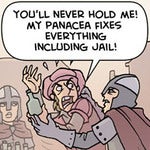 I noticed a puddle of water coming under the door. Strange - it wasn't raining. I sighed and grabbed a mop - last time this happened, the wood by the entrance warped.

...

You see a small woman - clearly undead to your heightened senses - trying to mop you up. The rest of the cottage seems rather neat.
Warpwood Haltija
-



Creature - Spirit

Hexproof
Whenever a creature would deal combat damage to you, you may prevent that damage. If you do, Warpwood Haltija fights that creature.
1/4
Become Liquid
... when I first read this, I missed the first line and thought that this was
horrendously
pushed. As it stands, it seems to be pretty fair. A
9/10
.
Warpwood Haltija: I like this in concept but it seems to be at the wrong rarity (
Palisade Giant
,
Protector of the Crown
and
Empyreal Archangel
all seem to imply it should be

or higher) and also might be too cheap. 7/10
Hyle restores her solid physical form and smacks the broom away, raising from the puddle in an attempt to use the surprise effect and her slightly larger size to pin the woman's wrists down to the nearbiest flat surface. Whether the attempt fails or succeeds, she will try to introduce herself later and ask: "I am Hyle Seritani. Are you Hanska Myemii?"
Immobilise


Instant

Tap target creature or planeswalker. Its activated abilities can't be activated this turn.
Draw a card.
Note: Hyle usually has two legs when materialising on land.

It was reasonably shocking when whoever-the-fuck (Hyle? Hyle.) materialized out of the water puddle. It was
far
more annoying when she tried to pin me to the ground. I gripped her wrists right back and used them to slam her against the nearest wall. Then I dropped the winded mermaid."You know, it's rude to enter someone's home without being invited. Next time, just knock. Would you like any tea?"...Hanska nods. "Yes, I'm Hanska Myemii. Do you normally invade people's privacy, Hyle?"
Lady of Scales
-


Creature - Human Druid


: Add

.
Whenever Lady of Scales becomes tapped, target creature you control gets +1/+1 and trample until end of turn.
1/1
Immobilize
is simply gorgeous. It's kinda weird that you're tapping a planeswalker, but that's forgivable. A
9/10
.