Post by aviijp on Aug 28, 2018 14:54:43 GMT
I've spent a lot of time porting cards between yugioh and mtg, but I decided I wanted to have a go at doing it for Gwent.
I tried my best to keep card abilities as close as possible to their original effect in gwent, but being such a different game I have had to be a little creative.
Some are definitely better than others, but please enjoy.
Signs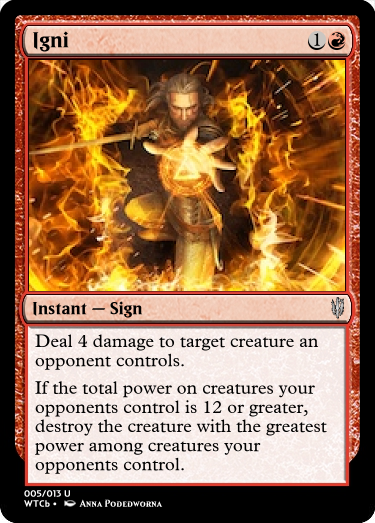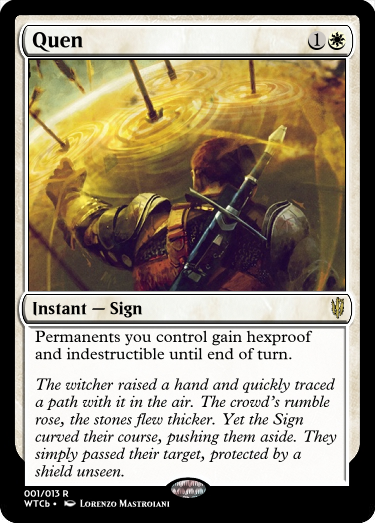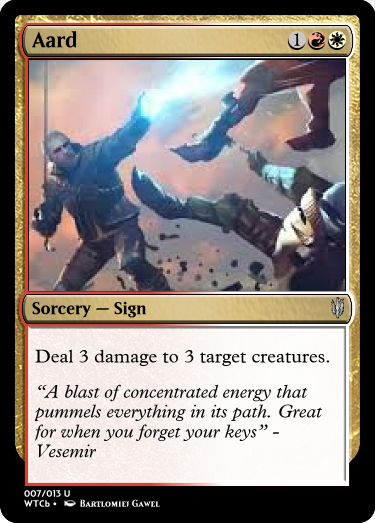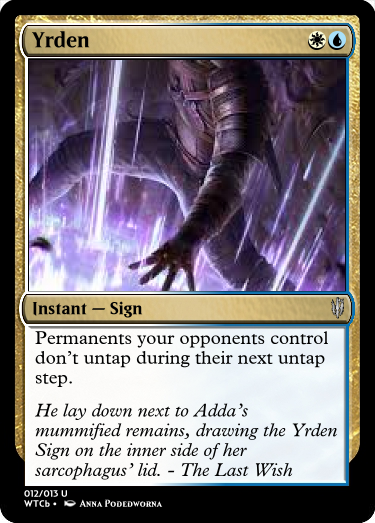 I started with the signs, some of these are better than others, I tried to match gwent effects with lore and make them appropriate for magic cards. I think some turned out better than others. Its a little irritating that Yrden and Axii ended up doing a very similar thing, and this is perhaps the reason axii doesnt exist in gwent yet. Aard is also probably a bit overpowered...
Creatures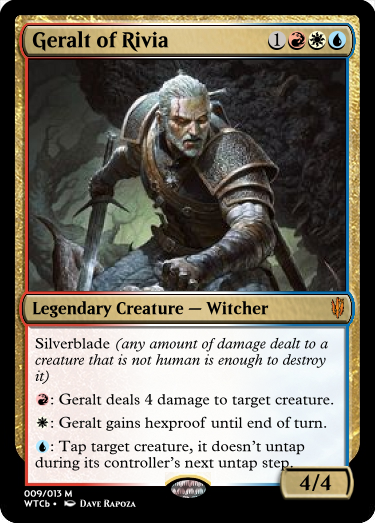 This is probably the card I'm most proud of. Jeskai felt right for geralt - he's a neutral but moral warrior who is capable of extreme violence, but is also an excellent detective and logical thinker.
As for the keyword, I wanted to give him a sort of deathtouch to capture his monster-killing prowess, but straight up deathtouch seemed a little dissonant.
I particularly enjoyed giving him the toolbox abilities which you may notice are all adapted from the sign spells above (maybe they're undercosted or overpowered though).
This one is very closely based on its Gwent card, which lets you either destroy your own card to draw a card, or destroy an opponent's (providing they haven't passed the round) but they draw a revealed card. It's been a super powerful but very complicated tempo card since it was introduced to the game and I enjoyed thinking of how to adapt it for mtg. Possibly the first ability needs to be more balanced, maybe by also doing the ad nauseam effect to you. Its not terribly unlike vaevictis asmadi I guess.
Another powerful card - this one is a leader in Gwent, and when you play it you look at the top three and just straight up play one of them and put the other two back on top so I just tried to balance that effect a little and in a way that was sort of on flavour for a leader. I know that the colour identity is a little mismatched for the effect it should probably have blue in there as well.
Another Gwent leader, the Emperor of Nilfgaard himself, again its essentially as close to the Gwent effect as you can be in an mtg ability, I added the intimidate because I felt he needed a keyword and if you know the character you know he's an intimidating chap. Definitely felt like grixis was right for this guy.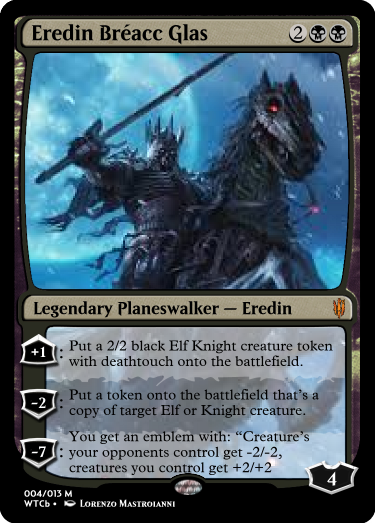 Eredin is another leader from Gwent, and I felt like since the character does indeed lead a horde of riders across different planes of existance it was right to make him a walker. The varous abilities are both connected to his ability in Gwent and the way the Wild Hunt archetype works in that game. The Wild Hunt are actually a race of Elves called the Aen Elle, and there aren't many black elves in MTG so it seemed interesting. In Gwent the card creates any Wild Hunt card when you play it so the token copy thing seemed a fairly balanced way of doing that in this case. The emblem is basically referring to the theme in both flavour and in Gwent, that the Wild Hunt are built around Frost, a weather type which damages units every turn, I just took the weaken aspect of that and turned it into a blanket effect and made it so that you're also strengthening your side.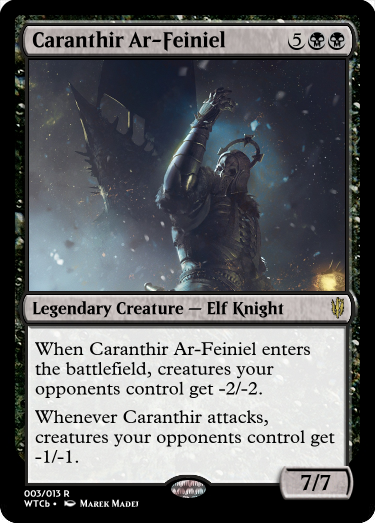 Going off the back of the Eredin idea, and since Caranthir in Gwent moves an opponents creature and applies Frost to its row, I felt like this one-time Elesh Norn ability, with a reduced Elesh ability each time you attack made sense for the character and didn't seem too busted.
Artifacts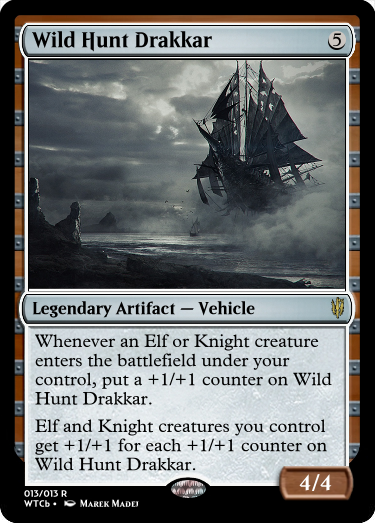 The Drakkar in Gwent is a general buff to Widl Hunt allies, and buffs itself every time one enters, so this seemed the most appropriate way of doing it. There's abit of a precedent in Shadowed Caraval from Ixalan.
Thats it for now guys, hope you like what I've done so far. I know there's a lot of room for improvement here, I made these all up ina single fairly short session so there's definitely going to be room to rework them.