Post by Idea on May 6, 2022 17:54:01 GMT
Soumaw, Shadow-Chaser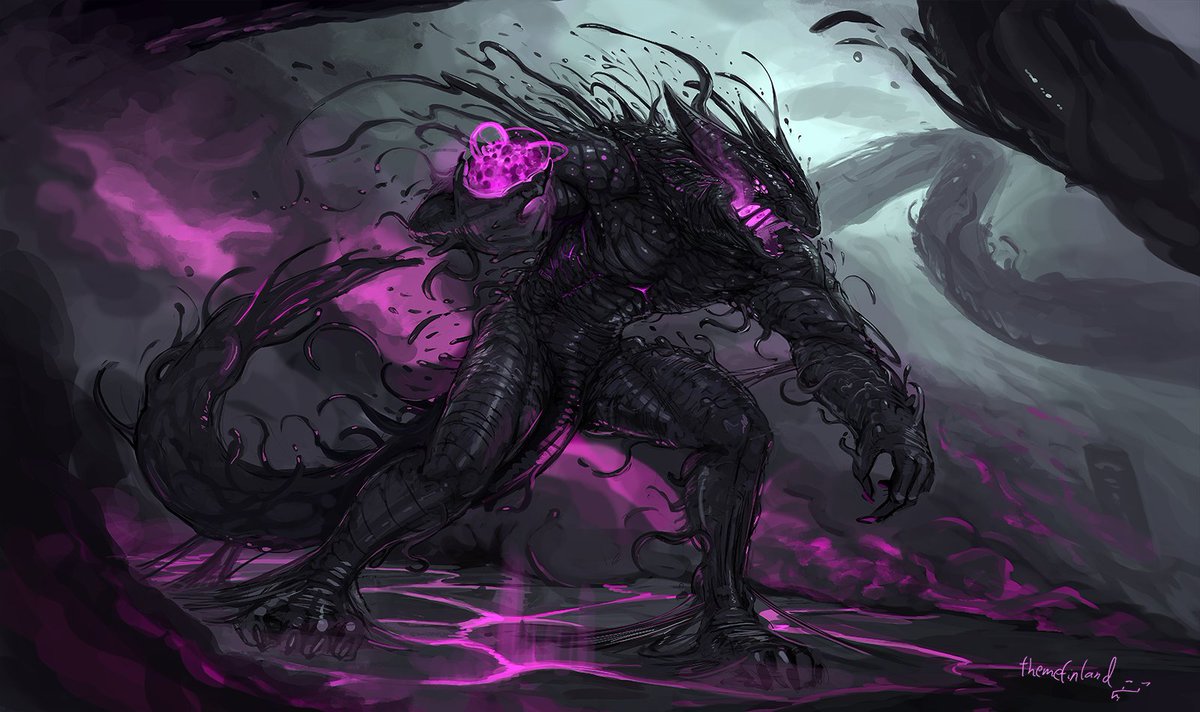 Art by Timi Houkanen, ArtStation
Soumaw's home plane is ruled by deceitful djinns, whom the population seeks nonetheless, willing to sacrifice for the fulfillment of their wishes. Soumaw was first formed as one of those wishes, a mass of devouring mists, consuming flesh, bone, and even the very soul of the life it came across, all of it becoming even more of its shadows. It was only stopped when, as it devoured a village, a village attempted to stop it, and ended up being consumed. For good or ill, it was only due to the pain of being subsumed into the shadowy mists that that her spark ignited. In a freak accident of the multiverse, the soul and spark of the would-be-planeswalker were incorporated into Soumaw, becoming part of it rather than dissolving. In that moment, Soumaw planeswalked away for the first time, and knew thought of its own for the first time.
Even after becoming a being of its own, however, Soumaw's purpose remains as before: To search far and wide for the finest prey to consume and incorporate. It has learned of a prophecy a paradisiacal land sealed and hidden to even evade the reach of planeswalkers. Soumaw desires to find the secret to reach such a place, so that it may fulfill its purpose by devouring the fine souls of the people of that land. It goes armed with the power to bind the souls of those it devours, being able to use them for its magic as fuel or forcing them to possess things and obey.
While lacking in knowledge and possessing limited words, Soumaw is cunning and quick to incorporate what it does learn into his tactics. It is obsessive and simply does not comprehend things such as moral constraints as until long ago its 'mind' was closer to something between an animal and a natural disaster. However, it has an instinctive connections to spirits, in particular those it's binded, though this hardly guarantees any it hasn't consumed will be in any way friendly.
Dialogue Color: 6e0dc7
Mana Value | Color Identity Value - Symbols [ 8 ]

4 | 2 -


Masteries [ 4 ]

-Instants
-Enchantments
-Creatures
-Artifacts


Mechanics [ 1 ]

-Evergreen

-Investigate


Perks [ 3 ]

-Enchanter

-Questmaster

-Rarity Upgrader



Conjuring [ 0 ]

-Core Sets
-Shadows Over Innistrad (free)
-Ikoria, Land of Behemoths (free)
-Modern Horizons 2 (free)
-Vintage Masters (free)
-Arabian Nights (free)
-TBD (free)


Valor / Score
15 / 615 (0 Skill points left)





Card & Ratings List