Post by Idea on May 6, 2022 1:35:43 GMT
A Tainted Realm
Introduction
In the plane of Reark, some lead and some follow. Those who will not participate are simple prey to the twisted impulses and schemes gods at the head of the organizations. He who prospers is he who shows results without asking too many questions. Even if they are keenly aware of the unnatural air of things, for the contradicting thoughts and many sights that feel simply
wrong
in Reark. Mana from an unknown source has been infused deeply into the very essence of the land and that of the inhabitants above it, tainting with ideals they would once abhor or reject, changing them at the core. And yet, they are none the wiser.
Mechanics
Standing
Cost: Subordinate another target non-subordinate creature you control that this creature isn't subordinate to. They remain subordinate to this creature until either leaves the battlefield. Use this ability only as a sorcery.
Most of Reark abides by strict chains, of leaders and followers, masters and servants, and whatever else. Some seeks dominance, power or some other goal, and others know their place. Someone stands at the top, and the rest sit below them, perhaps with some among them ranking higher than the rest in turn. Creatures with standing place other creatures under their rule at a cost, and possess additional effects based on those followers. No two rulers are alike, however. Some are leaders that give bonuses to those whom they command, others may ruthlessly sacrifice their own pawns or grow their power through the number of henchmen they possess. Standing not only allows one to accumulate subordinates, though, but a whole hierarchy can come about as while any creature can only serve one master, even those masters may have masters of their own. Some are just not fit to lead, but are excellent followers, growing stronger from having someone who will guide or command them.
Twisted Compulsion
If you cast a spell with a color this card does not share this turn, [effect].
The whole of Reark is infused with mana, forcibly so. This taint does not completely remake what it touches, but it does change it, twist what it once was. The urge to follow these new paths is hard to resist, if one even knows any other alternative, and even the very magic that is wielded can have results that would be unnatural outside the plane. Thus when a card with a color not present on a card with Twisted Compulsion is played, that color will leave an influence that causes it to behave in ways you wouldn't expect. A card with white mana might, for instance, use means of violent, unthinking force, while blue might rush to see the results without adequate consideration.
It should be noted that a card needs to have a color not shared by the card with twisted compulsion. It does not matter how many colors it shares, and a colorless card can never trigger it.
Colored Living Weapon
This artifact is (color). When this Equipment enters the battlefield, create a 0/0 (color) Germ creature token, then attach this to it.
But how, you may ask, shall we cast spells not of our colors? One among the solutions is the sort-of-return of the Living Weapon mechanic, though as one might expect, there's a twist. Reark's land and inhabitants are not the only things that were infused with mana, and indeed whether hidden in ruins, lost in the forbidden tower, or constructed using techniques long forgotten by anyone besides the secretive organization known as The Puppetry there are of these olden weapons in styles befitting each of the five colors.
Colored living weapon not only creates a token to bring your equipment online immediately upon casting it, but it also grants a color to that equipment despite it having a colorless cost, allowing you to more easily trigger twisted compulsion without diversifying your mana sources.
Factions



Pilgrims of the Vow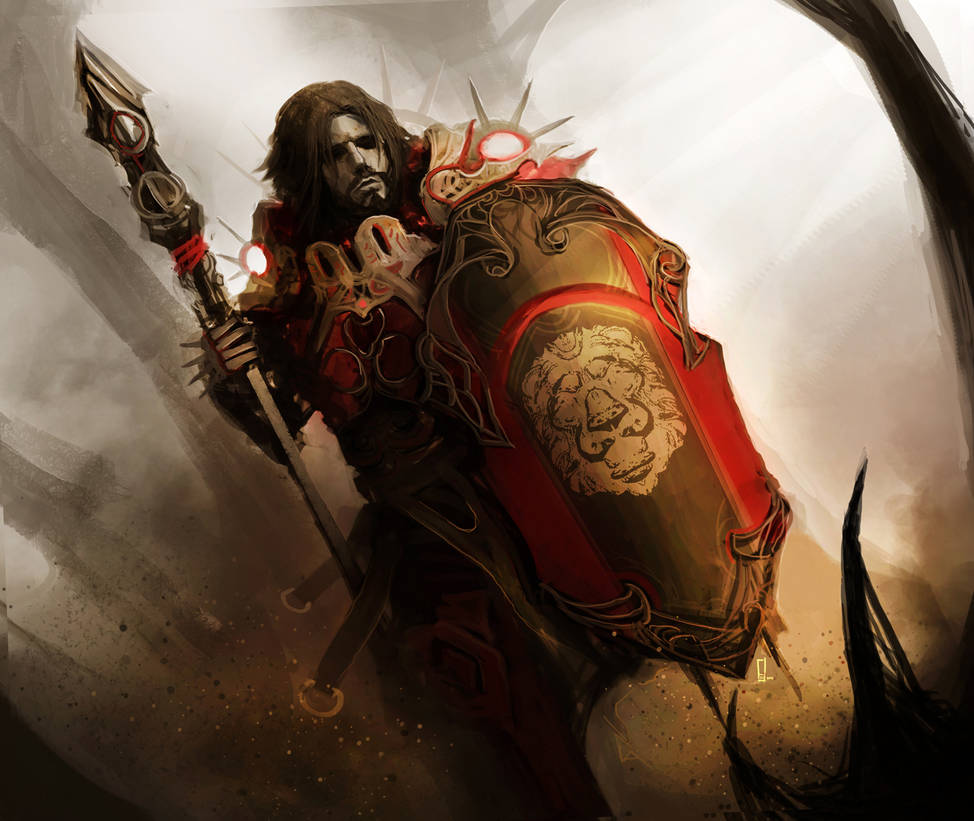 Art by Daniel Kamarudin
The Pilgrims of the Vow wander around Reark with a single focus: To protect. Their are driven by an innate desire to bring peace, to assist and guard, and to love. Yet the white ideals that would normally grant them such a drive were tainted by black and red. It is not out of duty they move, but for self-satisfaction. Some will help and protect, but only so as to boost their reputation or rise in ranks, and wouldn't be past inciting more harm among those they would protect to give themselves more opportunity to protect them. Others yet may twist their desire, using only how well they feel about themselves rather than the good of those they propone to assist as their metric, and others yet would result to the most horrific methods for the sake of love or safety. In their delusion they believe their 'benevolence' to be reciprocated and desired by all, and fiercely protective of both those who willingly join them, and those who must be 'guided' yet.
As white often does, the Pilgrims of the Vow have a balance. On one hand, there is the pull of their Twisted Compulsion which can bolster them for more swift, decisive and terror-inducing action. On the other hand, a chain of followers and leaders is strictly followed among their ranks, using Standing to subordinate token creatures, all of which are empowered by the leader they become subordinate to.



Finders of New Regalia
Art by Christina Davis
What drives the Finders of New Regalia is their wanderlust, or perhaps wonderlust would be more appropriate. Blue's desire for knowledge was stripped of purpose by red and green, instead becoming a simple impulse and instinct for discovery. The Finders of New Regalia have little in the way of leadership, instead being a gathering of independent explorers of the Forbidden Tower into a loosely unified camp and merely happen to at times respect those with more experience (and therefore a higher rate of survival). With the desire to explore and take in the unknown wonders of the world they go inside the forbidden tower to dig up a past forgotten, and the relics they find within they recklessly attempt to re-awaken for the simple pleasure of the achievement.
The Finders are always digging for new artifacts, including colored living weapons and treasure tokens. Gathering a collection may empower some creatures or spells, even leaving aside the benefits of the artifacts themselves. On the other hand, quickly using their findings to reconstitute a large creature earlier than you would expect to cast them is hardly beyond them either.



The Empty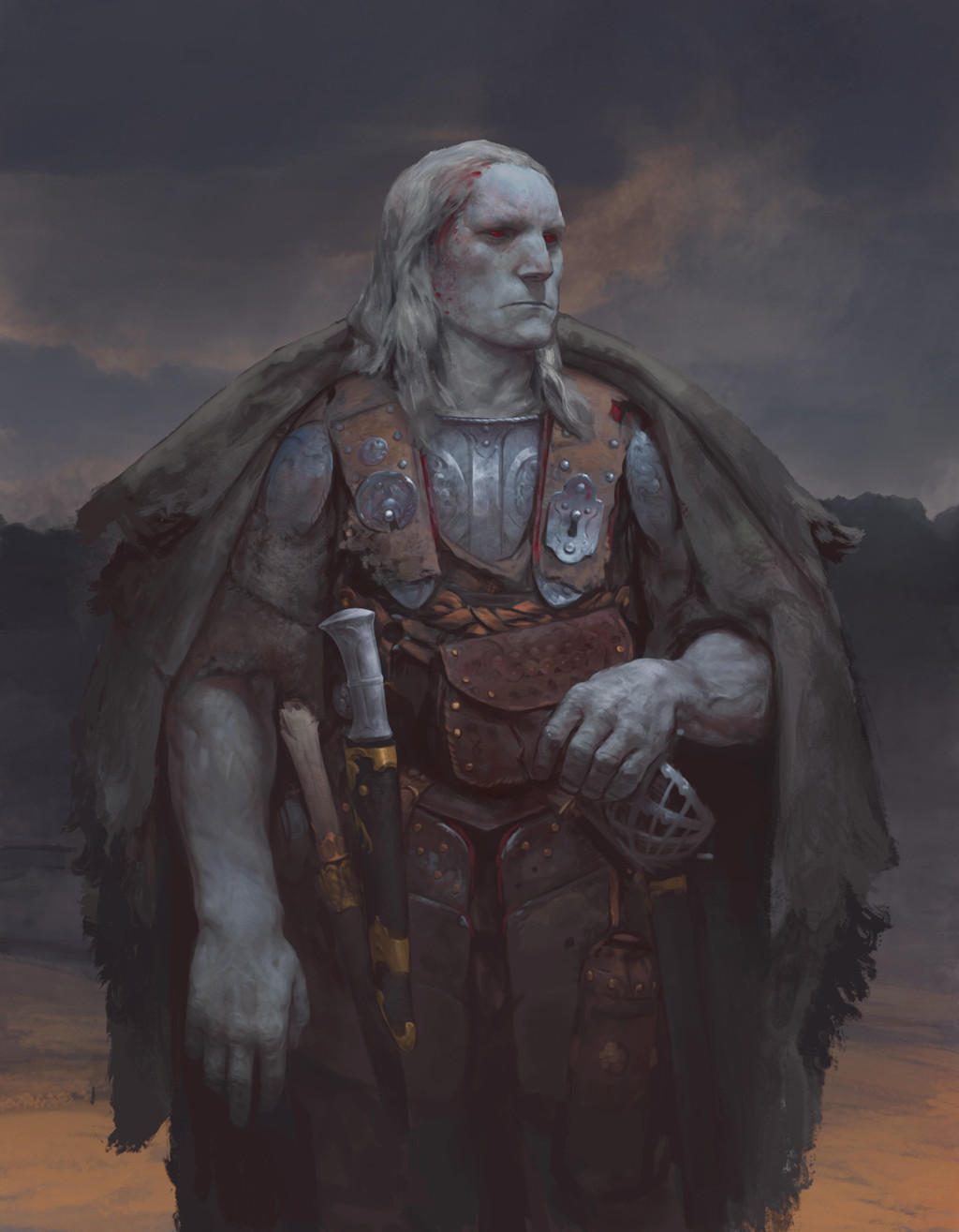 Art by Stephan Alekseev on ArtStation
Black has always believed it saw the world for how it is, and simply sought the best path for itself within such a world. Touched by green and white, however, it began to see a far wider world, and what a small piece of it it was. This has done little to curb the greed and ambition of the empty, but you wouldn't know it at a glance, because they recognized they would never climb to the top of the food chain. For the empty, they can be more satisfied earning favor with their masters, and proving their worth to one day serve the greatest master of all: The very god who leads them.
Unsurprisingly, this faction has a great focus on subordinates and those they are subordinated to. Where the Pilgrims of the Vow wish to protect and empower the subordinates however, and the Puppetry exploits them to its whims, the Empty focus on the number and the quality of those who serve, for indeed that is who they are proud to be. The master matters little too, because many of them are mercenaries paid by in jewels that draw one in, as they are the path to reconstructing their god. As such, pay them some treasure (tokens) and watch them give them more effort in exhibiting their loyal skills.



Raknar Celebrants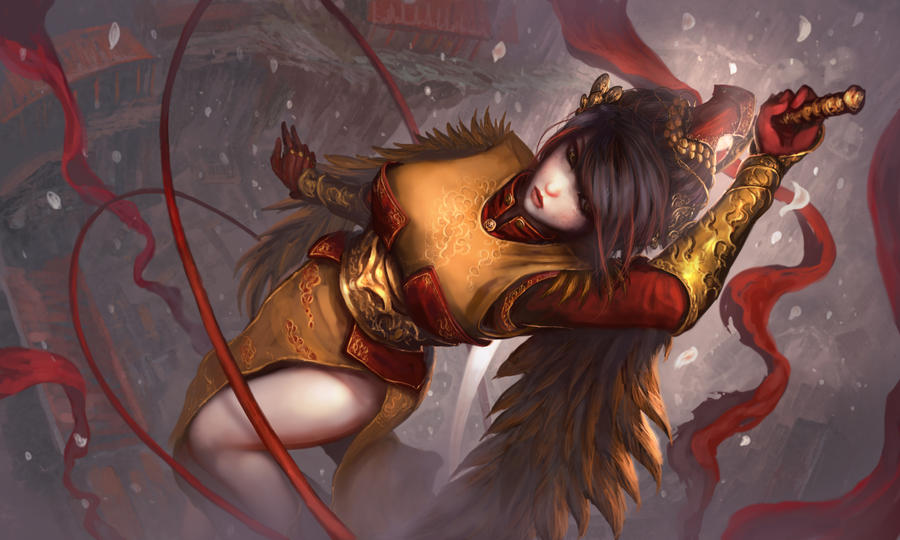 Art by Shizen1102 on DeviantArt
Competition. This is the core of the Raknar organization, created by their god Ara'Nazur, who sought entertainment from the clans he united, and thus the members gather once a year to display their prowess in athletics and other areas, hopping to become the victor who will receive the blessing and grow closer to dragonhood. Red's passionate action and self-expression is displayed within rules crafted by white, with the spirit of refinement of both body and mind from white and blue, towards the victory red desires.
Do not think even green or black are entirely off the hands of the Raknar, however, for there is no other faction that embraces their Twisted Compulsions to the extent they do. In fact they love their tricks, with instants and sorceries, and the occasional sudden summoning of some dragons who came to watch the festival and scout their potential new brethren.



The Puppetry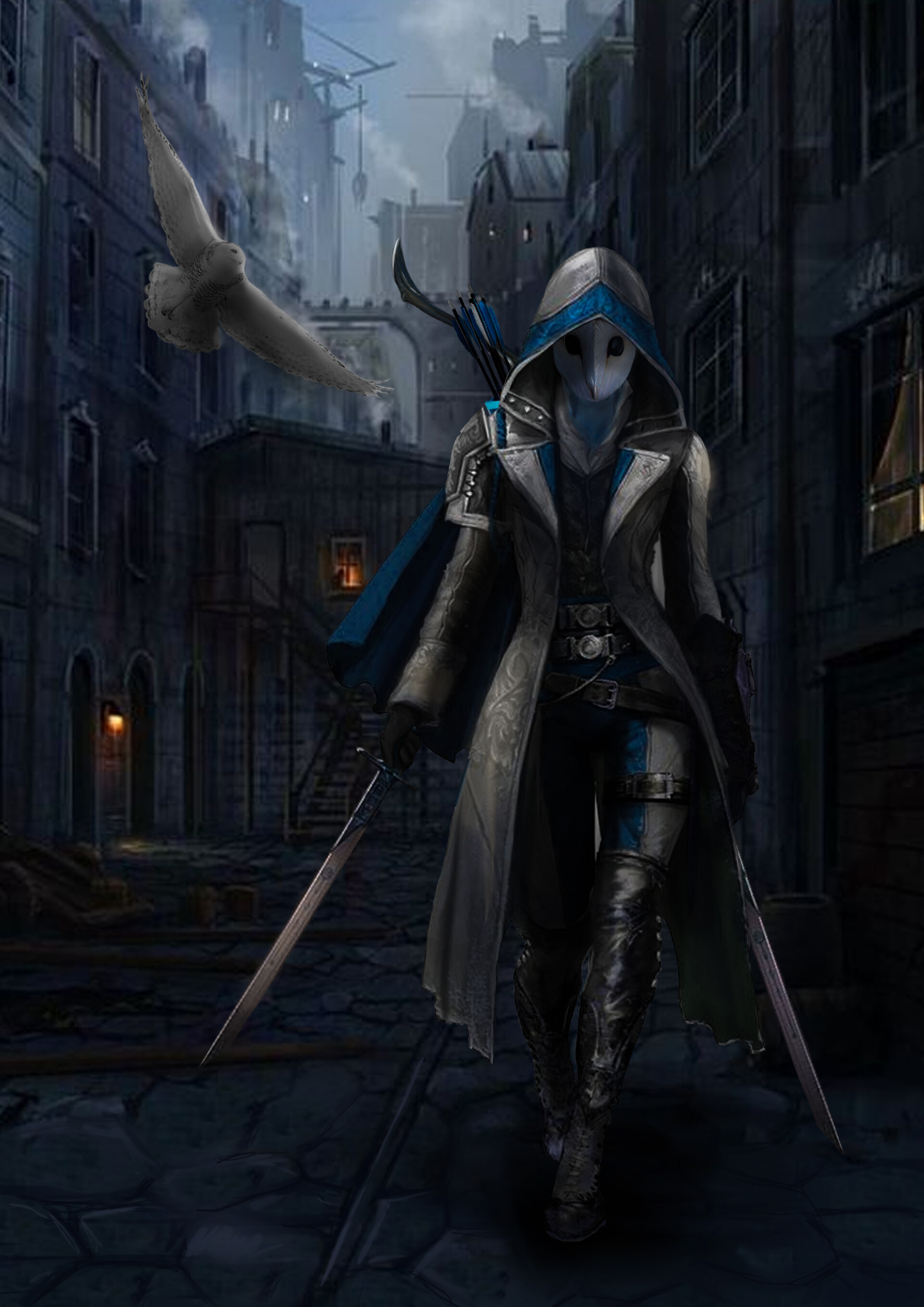 Art by Cayley Davidson Rowell on ArtStation
Secretive and isolatonist, the Puppetry is an organization with an extreme attachment to its traditions. New members are trained to eventually fight one another, all manner of tricks allowed so no long as no assistance is provided from anyone besides those of their own generation. It is deemed that the winners were chosen by fate as the ones most fitting to be a master, while the losers have found their place and their role as well, and will don masks that strip their will, making them perfect puppets. Following the guidance of their seers, the more experienced masters and puppets venture out to silence those who would disturb the order of things, particularly tending to target the Finders of New Regalia.
Once more, Standing makes its presence in a faction. In the Puppetry, however, the subordinates matter in so far as they are the most useful. They are replaceable, to be disposed of as need be, as fate would dictate and their master would benefit. The Puppetry's traditions, however, also include many forgotten techniques including the crafting of mechanical creatures, which assist them in their missions of subterfuge. Living weapons can become more subordinates, but once those subordinates are sacrifice the weapons they leave behind can still be used in the hands of a skilled assassin who knows how to get behind the key target's back without being seen, or perhaps use them to defend the home of the seers from invaders who would retaliate against their plans.
---
Thank you for reading, and I hope you enjoyed what you saw! I would be grateful for any feedback you can provide me