Post by Schwa77 on Mar 4, 2020 1:29:50 GMT
I've always been a huge fan of Ixalan, and wanted to try and design a draft cube themed around one of the major factions (Dinosaurs, Pirates, Merfolk, Vampires), and decided to focus on Pirates with a secondary focus on Merfolk as one of the main factions. Introducing Krakonos! Krakonos is a plane of endless ocean spotted with islands. Pirates run rampant across the endless seas, pillaging the wreckage of fallen civilizations for precious treasures.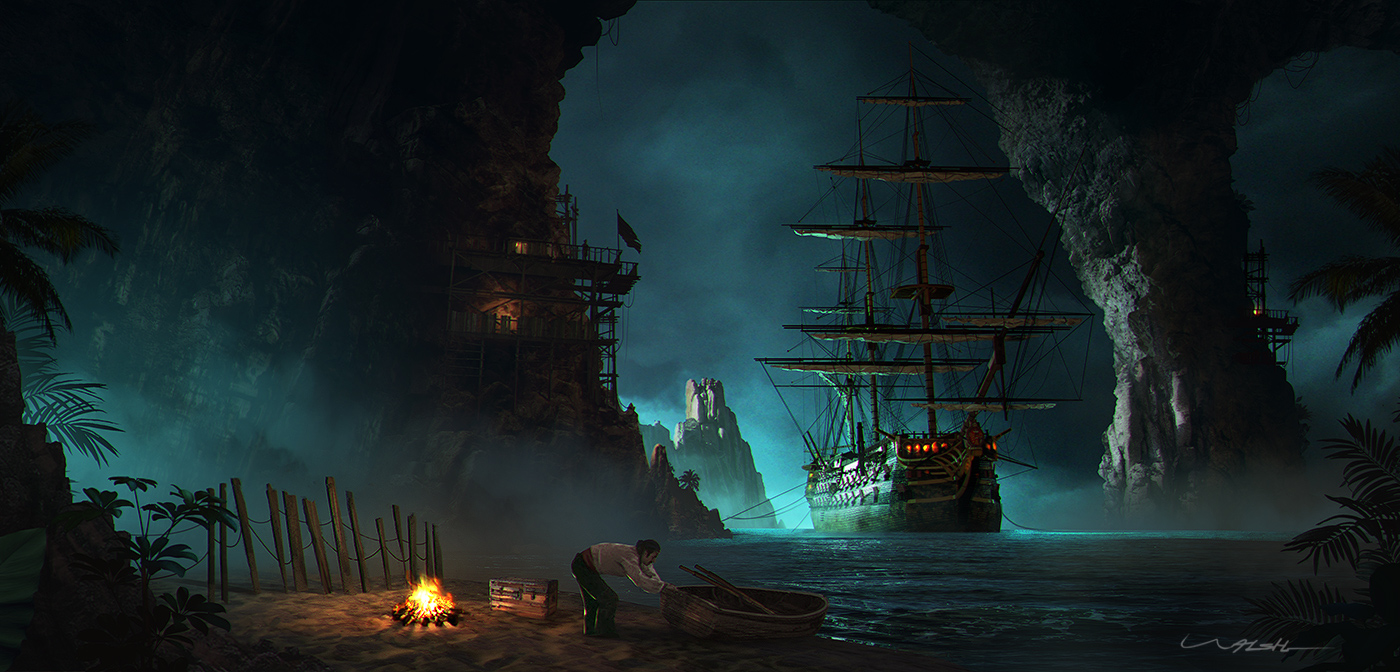 Art by Stayinwonderland, DeviantArt
I plan to split the set into 5 factions based on Shards of Alara. Each faction is hopefully going to have it's own signature mechanic, though two will likely share one and utilize it differently (more on that later). The five factions currently are:
Red - Green - White: Human Pirates, Explorers, Scouts
Black - Red - Green: Non-Human (Goblin, Orc, etc) Pirates, Mercenaries, Bounty Hunters

Blue - Black - Red: Merfolk, Sea Monsters
White - Blue - Black: Ghost Ships, Zombie/Skeleton Pirates
White - Blue - Green: Ships, Pilots
(Disclaimer: all 5 colors will have ships since they're kinda a pivotal part of piracy, but the White-Blue-Green faction will be able to use them a lot better)
Current New Mechanics (subject to change)
Plunder - Whenever this creature deals combat damage to a player, create a Treasure token (primary in WRG and BRG)
Voyage X - Exile this permanent and X other creatures. Place X time counters on them. They gain suspend. (primary in WUG). Voyage will probably only appear on Vehicles and every card with Voyage will have a "When CARDNAME enters the battlefield, [take action]" ability
More to come in the future
Yes, I know Valiant Buccaneer doesn't work, I just needed an example of Plunder.
And now, some things I need help with:
Can you think of any meaningful way to include artifact creatures in the set? I'm happy to bend the laws of reality (after all, the game is called Magic), so maybe some Automaton Pirates could see introduction.
Ideas on separate mechanics the Ghost Ship and Merfolk shards?
Not necessarily related to Krakonos, but how do I determine rarity on cards? That's one thing I've always been terrible at.
What do you want to see from Krakonos in the future? Currently the set is in a very early stage (only a few cards done, mostly just planning) so this is the perfect time to work some ideas out.

I've got some cool ideas for the future of this project, and I hope you guys are looking forward to it!