Post by kanokarob on Feb 2, 2020 19:33:03 GMT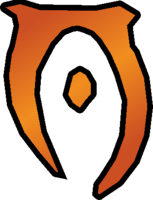 Elder Scrolls Cube
A multiplayer draft experience from across the Elder Scrolls universe
Set Name: Elder Scrolls Cube
Set Symbol: Daedric 'O'
Plane: Mundus
Number of Cards: 360 (24 Mythics + 48 Rares + 48 Uncommons + 181 Commons + 11 Wastes (in common slots)) + 5 Basic Lands
Tokens and Masterpieces not included
Expansion Code: ESC
Set Spoilers + Cockatrice Package
This fan-made set is the result of years of work, iteration, and playtesting. There's still a long way to go, but I now feel comfortable sharing it in a place of criticism and feedback. This set features a few custom mechanics and types, but generally remains within the realm of accepted Magic keywords and abilities. It is, however, a high-powered cube, with rarity in many cases dictating only appearance rates and complexity, rather than power level.
This cube is available to draft on
Planesculptors.net
, however it has been playtested and designed with the following pack distribution in mind, which the website does not currently support.
1 Mythic Rare
2 Rares
4 Uncommons
8 Commons


I have had great success with this cube, printed out and drafted at my LGS over many iterations. It is exciting, ridiculous, powerful without being too fast-paced or feelbad, and most importantly: lore-attentive. I even created a set of foil Masterpieces to give as prizes for these events! By sharing here, I hope to hammer out the last adjustments to power, balance, and card text cleanup.


---
The Elder Scrolls Cube, like most, has many different draft archetypes which can be played, with various levels of support. These can include colorless matters, Instants and Sorceries matters, and Gods matters. However, the bulk of the set is designed with the Alara Shard color archetypes in mind. These are each headed by a "General" in the mythic slot.
| | | | | |
| --- | --- | --- | --- | --- |
| | | | | |
| Dragons | Demons | Soldiers | Nature | Artifacts/Elves |
| Focused on suspend | Focused on convoke and new Daedric supertype | Focused on tokens | P/T matters | Historic matters |
These generals are only one of the cycles present in the Elder Scrolls Cube. A staple of every Elder Scrolls game makes its appearance here as a Mythic Rare supercycle: The Daedric Princes!
These are only the monocolored Demon Gods. All 17 are represented here, each with powerful, game warping effects. However, with their sacrificial costs and unwieldy Oblivion Lord keyword, they can do more harm than good for the poor soul which summons them. But, what is a Tower?
In the Elder Scrolls universe, the plane of Mundus is protected from constant invasion of the forces of Oblivion by eight Towers--some literal structures, some natural in origin. So long as their literal or figurative "stone" is kept active, the Tower is a part of the network that protects Nirn. This makes the MtG analogs slightly clunky, but also opens some interesting doors as they serve as a full color-pair cycle of Mana-fixing rocks (with two additional Towers created to complete the cycle for this cube, alone).
The other new mechanic is the addition of the Daedric supertype, shown below with its custom frame.
There are only a handful of Daedric cards in the cube, so it only serves to enhance the immersion of those drafting Demons than to be considered a serious consideration of the draft as a whole.
Other cycles, supercycles, and series exist, including so-called Lieutenants, , Quests, Expeditions, servants, Daedric Priests, Fruits of the Daedric realms, Endgame legendary sorceries, Soul Cairns, Ruins, Shrines, Daedric artifacts, and more!