Post by darknova on Jun 20, 2019 3:11:53 GMT
Hello fellow set engineers!
You may, or may not know me, from my time on this and previous MSE forums. I wanted to reach out to you to tell you that what ever set you are working on is awesome! That's right, you heard it, it's awesome!
So you have a great idea? Post it! So you don't think you'll have the following that you'd like, post it anyways and diversify on other forums. I have realized something about these forums over the years, Much like High School, these forums are very much based on popularity. After posting some amazing cards on the Card of the Week posts many times now between two accounts (the second made simply because I didn't think my first account was popular enough) I gave up. I figured my designs 'sucked' and that I was a bad designer. Then I stated looking further into it. I'll throw out an example for your consideration.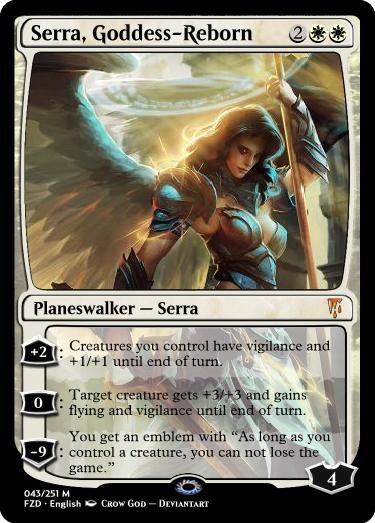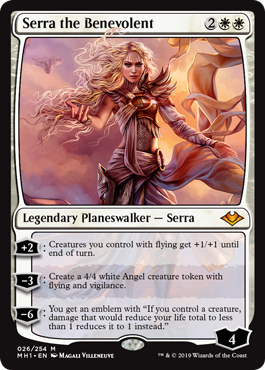 So Here's a perfect example. Being a player from 'way back in the day', my idea of balance is toning down all abilities and adding mana costs. I forget the subtle, yet I admit necessary power creep present in magic to create a fast yet engaging game. On the left is a card I created a couple years ago, on the right is a canon re-iteration of the same bad-ass lady. At first you'll notice many similarities between both, including their ultimate ability. While the new Serra's abilities focus on flying creatures, the priors focus on all creatures. I had built cards like these that I thought were friendly to modern magic for years... worthy, in my opinion, of some accolade. But the internet, like the stock market varies wildly and is incredibly cliquey. While there are some differences in these two, there are some things that seem logical. Posted in a 'Card of the Week' contest, you would think that a card that can nearly pass for a canon card would be widely accepted, but that is the problem with the general consensus. The only public that 'votes' are friends with those that 'win'. The 'Card of the Week Contests' consists of the same winners nearly weekly. It is a popularity contest, let's be honest. The same participants win for cards, and people try to jump in the crowd are pushed aside. The 'Community' is established and only the 'community' can win, is how it felt to us, the 'losers'. It had completely dissuaded me from generating new cards for months. Why would I bother creating cards when they would go no-where. But I realized, the fun in creating cards is better than some personal satisfaction, it is peer satisfaction as well. I could come on here as a 'A-hole' and blast out a link of a competitor's site, but I will do no such thing because I believe in our community. The MSE community has the strongest bonds I've see in Magic, and I hope it remains that way. The point of this article is that you should think of the magic creator community as just that, a community. Everyone is here to be recognized, everyone to showcase their passion. All I am asking is to look at each 'artists' art as 'art' and not just 'What is the best' or 'Who is more popular'. I love the game and the game loves me, what does it think of you? Happy hunting,