Post by Fleur de Violet on Apr 4, 2018 17:12:48 GMT
Lumen, Clockwork Sheriff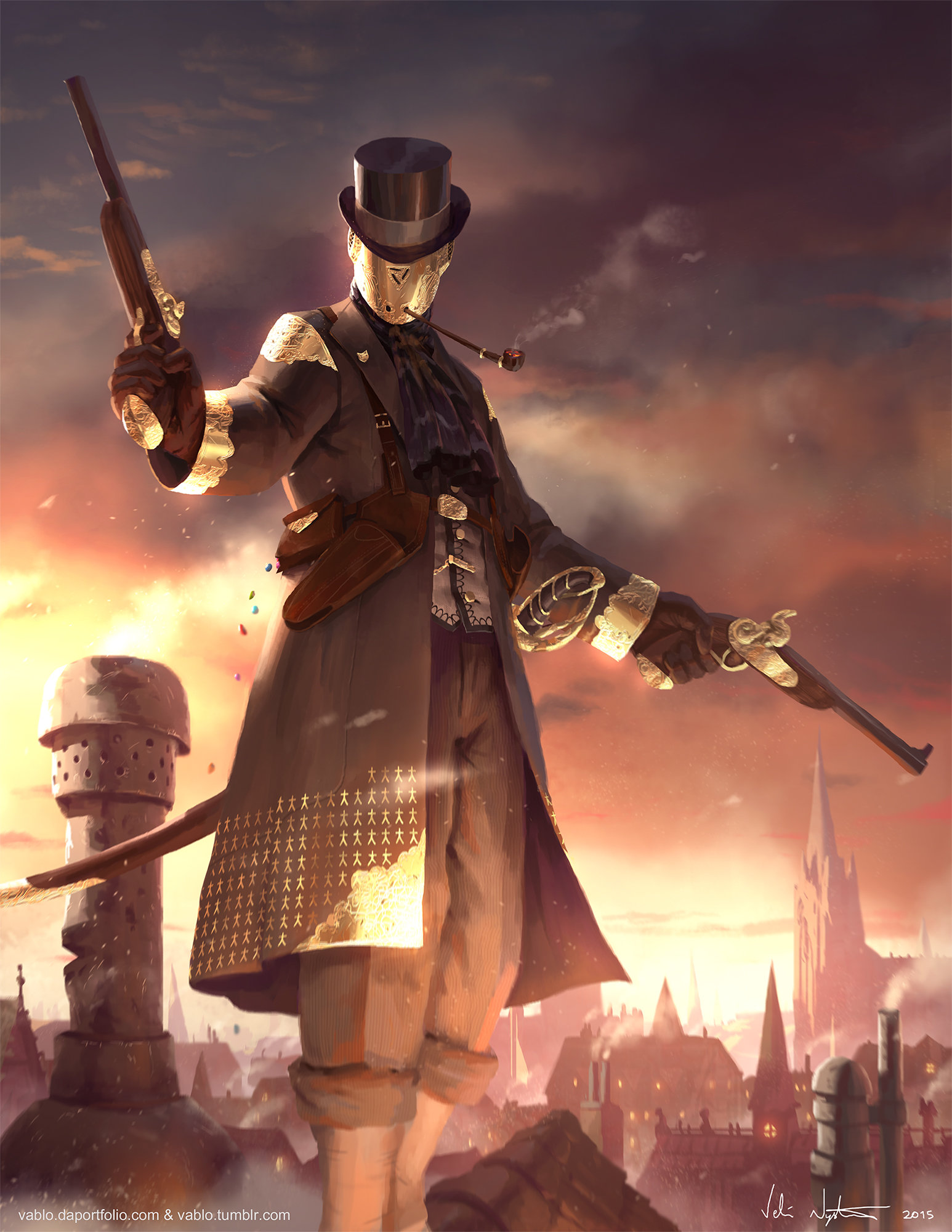 artwork by Veli Nystrom
Colors:


(2 points)
Perks: Multityper, Artificer (2 points)
Types: Artifact, creature, instant (3 points)
CMC: 5 (5 points)
Multicolor Level: 1 (1 point)
Expert Keywords:
Investigate
(Create a colorless Clue artifact token. It has "

, Sacrifice Clue: Draw a card.")
(1 point)
Rarity upgrader (1 point)
Valor (Total): 21 (621)
Can Call For Aid From: Core Sets,
Kaladesh, Guilds of Ravnica,
Eldritch Moon
(13/15 mana left.) (Purchased sets are in bold.)
Lore: A sheriff that hails from the steampunk desert plane of Kassova, Lumen was once head of a sheriff's department in one of the small counties. He was known for his uses of unorthodox weapons juxtaposed with his otherwise stringent appeal to tradition. One day, he receives a case that takes him across Kassova and culminates in his near-death and sparking at the hand of a band of hardened criminals, clad in various modern pieces of gear. It was on that day that Lumen swore to never be left behind in the times again.
His first planeswalk was to the scrapyard plane of Demystria - rife with dead scarecrows and various other dead beings, Lumen found it difficult to remain in such a place of lawlessness. And yet, he observed and experimented with various pieces of metal, patching up the severe wounds he had, making them less severe bit by bit. By the time he was done, he had mostly repaired his wounds, but there still remained a scar on his face as a testament to the day he almost down. Subsequently, he covered it up and began trying to bring law to the otherwise lawless plane of Demystria. To his pleasant surprise, his techniques and detective skills were rusty but managed to carry him through against the criminals of Demystria, who were not used to being pursued by authority.
After this time in Demystria, he returned to Kassova and remained there briefly, redoing the hastily done repairs he did in Demystria. By the time he arrived, everyone thought he was probably dead, so he left as he had gone, no one knowing he was ever there. Somewhere along the way, he recalled questioning a renegade artificer spirit named Varyl Doltria about where he had obtained his skill in artifice. He answered that he had gone to a place called the Arena, where individuals challenged one another in combat, physical or otherwise. Lumen nodded and left for the Arena to sharpen his skills and wits, but not before luring Varyl into an urn and sealing it with gilded chains.
Aoli, the Marble Fist
Colors:

Pronouns:
He/him
Tasks:
Enforcement, regulation, force
Mechanical Identity(s):
Generally uses medium/large-ish creatures and equipment. Also uses vehicles, often flavoured as horses.
Rin Ayakari
Colors:

>

Pronouns:
They/them
Tasks:
Research, development, innovation
Mechanical Identity(s):
Lots of artifacts. Can tend to instants/sorceries matter or fliers matter, too.
Emil Afarshan
Colors:

>

Pronouns:
He/him
Tasks:
Rescues, securing, protection
Mechanical Identity:
Most stuff is often flavored based on attacking/combat tricks. Will use most things, kind of a jack-of-all-trades. Probably the most likely to lean into tribal or weenie-style gameplay.